What Is Needed for a Successful Petition under SB 1437?
The answer to the rhetorical question posed in the title to this article is that it depends upon the specific facts of each case, however, certain general areas of information are needed by a judge to agree to resentence someone under 1437.
The Gist of this Article: To make a prima facie showing of entitlement to resentencing under Senate Bill 1437, one submits a petition under Penal Code § 1170.95 and in that, one must verify that petitioner was prosecuted under the felony murder rule or the natural and proable consequences doctrine and that petitioner 1) was not the actual killer; 2) did not aid or abet the actual killer with the intent to kill and; 3) was not a major participant in the crime, acting with reckless indifference to human life.

It is first and foremost important to understand the scope and intent of Senate Bill 1437, which revised Penal Code sections 188 and 189. While its provisions are retroactive to allow resentencing of someone convicted under the old felony murder rule wherein transferred intent applies to allow the intent to commit a felony to be implied to the intent to murder, SB 1437 does not apply to everyone so convicted.
It is consequently important to show the judge your petition appreciates that 1437 only applies to someone sentenced under old felony murder rule under circumstances that really were, for the person seeking resentencing, accidental, unintentional or unforeseen.

In other words, we think it is smart to first distinguish one's client from those whose murder conviction is unaffected by 1437.

For example, SB 1437 does not apply to the person who was the actual shooter or direct killer of another. Penal Code § 189(1). 1437 also does not apply if defendant was not the actual killer, but was a major participant in the killing because he or she aided, abetted, counseled, commanded, induced, solicited, requested or aided the actual killer in the commission of murder in the first degree (i.e. lying in wait). 1437 also does not apply to a defendant who was a major participant in the underlying felony by acting therein with reckless indifference to human life. Penal Code § 189(3). Lastly, 1437 does not apply when the victim was a police officer who was killed while in the course of his or her duties, when defendant knew or reasonably should have known that the victim was a police officer engaged in the performance of his or her duties.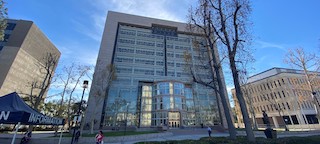 Van Nuys Courthouse
In other words, we think it is persuasive to first demonstrate to the judge that defendant is not someone whose murder conviction is an exception to 1437.

Then, the petition should argue that defendant is the type of participant that 1437 intended to help. The petition should demonstrate that transferring the actual killer's intent to kill or reckless disregard to others who nonetheless participated in the crime, but without such intent, is precisely what 1437 seeks to end.
To show defendant is that intended recipient of 1437's resentencing focus, one must look for evidence to show the court that defendant was such a minor participant. We think looking at the trial transcripts is the best evidence: see what the prosecutor argued or even conceded as to defendant's role in the killing. Did the prosecutor acknowledge that defendant's role in murder was minor? Did the prosecutor state on the record that defendant was the get-away driver, for example, with no prior knowledge that a killing would take place? Did the prosecutor argue that although defendant never intended for a killing to take place, jurors had no option but to find defendant was guilty of murder?

Did the prosecutor dwell on the fact that California law seemed unfair in this regard, but jurors had to follow the law and convict defendant even though defendant could not have foreseen a killing would happen? If so, attaching the transcript of such statements to the petition is powerful for asking the judge to resentence defendant under 1437.
Next, it is smart to show that the prosecutor's arguments to the jury were accurate reflections of the discovery, wherein police found defendant had a minor role in the crime and thus no intent that another person kill someone, or at least had no prior awareness that a killing would take place. If the police report supports such a minor role, attaching the police report is helpful.
If the jury instructions acknowledge defendant's subordinate role in the underlying felony (i.e. a robbery or burglary), attaching such jury instructions is helpful toward arguing that 1437's scope intended to include defendant for resentencing.
Lastly, and perhaps most powerfully of all other evidence, it is good to focus on the prosecution's opposition to any appeal of the conviction by the actual killer. In such an opposition, the prosecution may argue that the actual killer was entirely responsible for the loss of life and defendant (the one petitioning for resentencing under 1437) only provided collateral, incidental or tangential assistance with no prior intent to kill or knowledge that a killing would take place or, even later, took place.
We hope this article helps someone seeking resentencing under 1437 by explaining how judges understand 1437's focus is limited to just certain defendants and that a resentencing request under 1437 needs to show defendant falls within that focus.
For more information about resentencing issues, please click on the following articles:
Contact us.