If One Seeks SB 1437 Relief, File an 1170.95 Petition
As we have witnessed over and over, with new legislation, such as for example, Senate Bill 1437, there are procedural issues and often legislative interpretation issues that inevitably arise as the new law is applied or sought to be applied.
In a Nutshell: The provisions of Senate Bill (SB) 1437 are not automatic and cannot be applied by a clerk based on just a quick read of the court docket. Instead, a petitioner seeking resentencing must file a petition for resentencing under Penal Code § 1170.95 and allege a prima facie eligibility for relief.

Senate Bill 1437 is no different. This article is presented to help those seeking relief under its provisions – to do so the correct way, the first time, rather than by trial and error, which can be time consuming and, consequently, ironically frustrate the sentence shortening that one requests.
Senate Bill 1437 is one of a handful of recent new laws that affect sentencing and post-conviction relief. Senate Bill 1437 became effective January 1, 2019. Therefore, for clarity sake: 1437 "amended the felony murder rule and the natural and probable consequences doctrine, as it relates to murder, to ensure that liability for murder is not imposed on a person who is not the actual killer, did not act with the intent to kill, or was not a major participant in the underlying felony who acted with reckless indifference to human life." Section 1437 amended Penal Code §§ 188, which defines malice, and 189, which defines the degrees of murder.

Its goal is to allow review of a common sentence, that may be inappropriate, for example, for unwitting accessories after the fact or an aider and abettor to a crime that unexpectedly evolved into murder. For example, sentences of the unwitting girlfriend who drove her boyfriend down to the liquor store and, unbeknownst to her, he robs the store and shoots dead the owner. The girlfriend then is the get-away driver, never expecting such a crime.

It adds Penal Code § 1170.95, allowing those convicted of felony murder or murder under a natural and probable consequences theory to file a petition with the court that sentenced him or her to have the murder conviction vacated and to be resentenced on the remaining counts.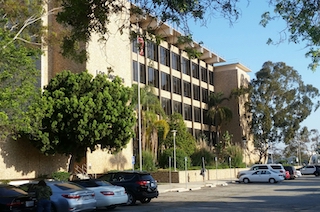 Torrance Courthouse
To file a petition under 1170.95, there are three requirements. First, there must have been a complaint, information or indictment filed against petition that alleged felony murder or murder under the natural and probable consequences doctrine. Second, the petitioner must have been convicted of first-degree or second-degree murder following a trial or accepted a plea offer in lieu of trial at which petitioner could have been convicted of first-degree or second-degree murder. Lastly, and third, the petitioner could not have been convicted of first-degree or second-degree murder because of the changes to Penal Code §§ 188 or 189 made effective on January 1, 2019.
These procedures were given new context, or at least emphasized meaning, in the recent reported decision of People v. Jose Angel Martinez, a case out of the Long Beach Superior Court. Martinez was a senior in high school in 2013. He was good friends with a man named Adrian Berumen, also a high school senior. Berumen worked at a screen-printing shop called Top Hat Screen. The murder victim, Christopher Waters, also worked at Top Hat Screen.

While the facts of the case were disputed at trial, there was no doubt that Waters was killed ultimately by strangulation after first experiencing blunt force trauma, it was believed from a baseball bat used by Berumen at his house with Martinez watching in surprise.
Berumen apparently robbed Waters first for some money he received from a customer after delivering some shirts from the screen-printing shop. After Berumen murdering Waters, Martinez cleaned up the blood and helped Berumen drive Waters to First Street in San Pedro, where they lit the car on fire with accelerant, leaving Waters' body inside. The car was parked on a basketball court.
Berumen and Martinez then hailed a cab and took a ride to the Lakewood Mall.
Both Berumen and Martinez were arrested rather quickly and convicted of murder under Penal Code § 187 and arson after trial on these charges. The trial court judge, Laura Laesecke (who we think is a very good, patient and careful judge), sentenced Martinez to twenty-five years to life in prison for the murder, plus three years for the arson.
Martinez appealed his conviction and sentence on multiple grounds. The only ground this article will address is a narrow issue: while his appeal was pending, Governor Brown signed Senate Bill 1437. In a supplemental briefing, Martinez argued SB 1437 applied retroactively to him and that he did not need to file a petition under 1170.95, but could instead directly appeal because his murder conviction was not yet final.
The California Court of Appeal, Second Appellate District, disagreed and held that Martinez should file his petition back in the trial court in Long Beach. The appellate court, perhaps to prevent overlapping appeals of a conviction and a sentence in two different courts, also held that 1437 should not be applied retroactively to nonfinal convictions on direct appeal, which makes sense. In other words, Martinez will have to wait to petition for resentencing, depending upon the outcome of his appeal now pending.
The citation for the Second Appellate District Court ruling discussed above is People v. Jose Angel Martinez (2d App. Ct., 2019) 31 Cal.App.5th 719.

For more information about sentencing issues, please click on the following articles:
Contact us.