What Is Ineffective Assistance of Counsel in a Murder Case?
Ineffective assistance of counsel (IAC) is often claimed by someone who was convicted and who talks about his case with fellow prisoners. The claim is looked upon with skepticism by attorneys who regard the claim as uneducated and perhaps as made without lengthy experience with how our legal system works.
The Gist of this Article: In a murder case, ineffective assistance of counsel can include allowing the jury to hear a defense expert testify that, in general, Blacks constitute a high number of those convicted of violent crimes when defendant is himself Black. Interestingly, this case was decided by the U.S. Supreme Court and the lone dissenting justice was Clarence Thomas, who is Black. He did not think such conduct by the attorney was ineffective assistance of counsel.

The U.S. Supreme Court in opinion in
Strickland v. Washington
(1984) 466 U.S. 668 set forth the standard that all states must follow, including California. A defendant must first show that counsel performed deficiently.
Id.
, at 687. Defendant must then demonstrate prejudice – "a reasonable probability that, but for counsel's errors, the result of the proceeding would have been different."
Id
. at 694.
To see how this is used to evaluate facts, the case of Duane Buck is instructive. The U.S. Supreme Court just issued this ruling on February 22, 2017 (2017 DJDAR 1553). The case takes place in Texas, until reaching the U.S. Supreme Court, but the ruling affects the entire country.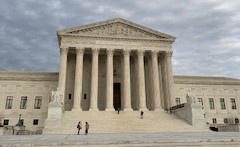 U.S. Supreme Court
In 1995, Duane Buck went to the house of his former girlfriend, Debra Gardner. He carried a rifle and a shotgun. He entered the home and shot Phyllis Taylor, his stepsister, and then shot Gardner's friend Kenneth Butler. Gardner fled the house and Buck followed her. So did Gardner's young children. While Gardner's son and daughter begged for their mother's life, Buck shot Gardner in the chest. Gardner and Butler died of their wounds. Taylor survived.

After shooting Gardner, Buck walked to his car and placed the firearms in his car. He then returned to taunt Gardner where she lay mortally wounded and bleeding in the street. He said to her, "it ain't funny now. You ain't laughing now."

Police arrived shortly thereafter and arrested him. In the patrol car, petitioner was "laughing and joking and taunting." He continued to smile and laugh during the drive to the police station. When one of the officers told him that he did not find anything funny, Buck said, "that bitch got what she deserved."

Buck was tried and convicted by the jury for capital murder.

At the time of his trial, a Texas jury could only impose the death penalty if it found – unanimously and beyond a reasonable doubt – "a probability that the defendant would commit criminal acts of violence that would constitute a continuing threat to society."

Defense counsel, during the sentencing phase, put on two experts as to Buck's future danger to others. The first expert said Buck was no danger at all. The second expert had written a report that considered seven statistical factors. The attorney had read the report and asked the expert about factor number four, race. The expert said that because Buck was Black, he had an increased probability of posing a danger to society. The expert testified that "there is an overrepresentation of Blacks among the violent offenders."

The jury returned a sentence of death and Buck appealed. The case went all the way to the U.S. Supreme Court, which reversed the death sentence, finding ineffective assistance of counsel.

The Supreme Court said that "relying upon race to impose a criminal sanction "poisons public confidence" in the judicial process. Davis v. Ayala (2015) 576 U.S. ___.

The court found that without the second expert's testimony on race, at least one juror would have harbored a reasonable doubt about whether Buck was likely to be violent in the future. It quoted Rose v. Mitchell, which said, "[d]iscrimination on the basis of race, odious in all respects, is especially pernicious in the administration of justice." Rose v. Mitchell (1979) 443 U.S. 545, 555.

Justice Clarence Thomas, who himself is African American, dissented. He thought that the grim facts of the case amply demonstrated Buck's utter lack of remorse and that he would certainly be a threat to public safety in the future. Thomas thought that the majority's focus on the race-based expert opinion was misguided and that there was no IAC, given the overall facts about Buck and his crime.
The citation for the U.S. Supreme Court ruling discussed above is Duane Edward Buck v. Lori Davis (2017) 580 U.S. ___, 137 S. Ct. 759, 197 L. Ed. 2d 1.
For more information about legal representation issues, please click on the following articles:
Contact us.