What is Illegal Possession of an Assault Weapon, PC 30605?
California Penal Code § 30605 makes it a crime, subject to specified exceptions, to own, possess or have control over an assault weapon, which is defined as any type of firearm such as a rifle, pistol or shotgun that can be fired in a semiautomatic or fully automatic mode with the ability to shoot more than ten rounds, the ability to be equipped with a flash suppressor, folding stock or even a grenade launcher and having an overall length of less than 30 inches.

The most common examples of such weapons are an M-16, AR-15 or AK-47, although this is by no means all an all-inclusive list. Penal Code § 30515 lists more than 70 specific weapons that qualify. A .50 caliber Browning machine gun ("BMG") is addressed in a separate Penal Code provision, section 30610 (Greg Hill has experience in the Marine Corps shooting this powerful weapon).
In a Nutshell: A violation of Penal Code § 30605, illegal possession of an assault weapon, is a wobbler. It can be charged as a misdemeanor or a felony, depending upon the facts of the case and defendant's prior criminal history. In limited circumstances, it can be charged as an infraction under § 30605b. As a felony, the maximum sentence is three years before any enhancements are added, if applicable.

Penal Code § 30605 is a wobbler, meaning it can be filed by the prosecution as a misdemeanor or as a felony, depending upon the facts of the case, defendant's criminal history (especially for the same or similar offenses) and other issues that the prosecutor may consider.

The maximum punishment for this offense as a misdemeanor is one year in county jail and/or a $1,000 court fine, plus penalties and assessments. Informal or summary probation is common, although it may include community service, fines and fees. As a felony, the maximum punishment is three years in state prison (usually served in county jail) and/or a $1,000 court fine, plus penalties and assessments.
In limited circumstances, violation of Penal Code § 30605 can be resolved as an infraction with a maximum fine of $500 under § 30605b. Such a resolution would be reserved for someone facing his first such charge, having no more than two such weapons and defendant agrees to surrender the weapon to have it (or two) destroyed.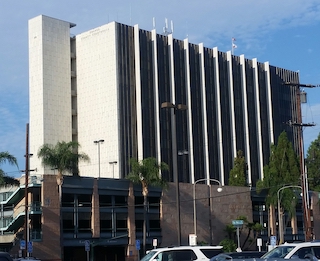 Santa Ana Courthouse
Possession can be actual or constructive possession. Actual possession means literally holding the weapon, or having it on one's person, including by carrying it using a strap, sling or in a backpack. Constructive possession means one has control over it or access to it, i.e. it is in one's house or car.
The exceptions to this crime include possession of such a weapon under a valid permit to possess the specific weapon. It is important to note that a concealed weapon permit (CCW) does not include an assault weapon. The other main exception to prosecution is one who is an administrator of an estate that legally obtained such a weapon or weapons.
Less commonly, a suspect may have a permit to manufacture and sell such weapons to the military or law enforcement, however, his possession of such a firearm must be while in the course and scope of such employment and/or sales. The suspect may also be member of law enforcement and authorized to have such weapons, but when found with such weapons, the possession must be within the official duties intended (i.e. target shooting or a firearm exhibition).
The defenses to this crime are first, that defendant actually did not actually possess such a weapon or weapons or have constructive possession of such a weapon or weapons.

Second, a common defense would be that the weapon was discovered by police through an unlawful search and seizure in violation of the Fourth Amendment. Often, such weapons are found without a search warrant, in the course of searching a home or vehicle for evidence of other crimes, often drug-related or in the investigation of a domestic violence matter. In such circumstances, a motion to suppress this type of evidence may face an uphill battle.
We have represented several clients on this charge. Often, to mitigate punishment, we suggest that our client immediately enroll in and complete an online gun safety course. In Torrance, Turner's Outdoorsman offers such a class through its website. When the weapon is located and seized during a search incident to arrest for another offense or offenses, we suggest that the client enroll in anger management classes early, attend Alcoholics Anonymous (AA) meetings and/or Narcotics Anonymous (NA) meetings well before the arraignment.
For more information about firearms, please click on the following articles: