Lifetime Firearm Prohibition Now for Misdemeanor 273.5
Effective January 1, 2019, California Penal Code § 29805 is amended to add a new subsection (b) to change California law imposing a ten-year ban on owning a firearm or ammunition to a lifetime ban those convicted on or after January 1, 2019 of misdemeanor domestic violence, Penal Code § 273.5. Misdemeanor battery against one's spouse or girlfriend, Penal Code § 243(e)(1), is not affected by the new law.

About This Article Briefly: As of January 1, 2019, anyone convicted of violating Penal Code § 273.5, even as a misdemeanor, faces a lifetime ban on owning a firearm or ammunition under California law. A misdemenor violation of §§ 243(e)(1) or 242 is not subject to this new law. Expungement of the 273.5 conviction does not lift the lifetime ban, either under state law or federal law.

Those people who were convicted of violating misdemeanor level Penal Code § 273.5 before January 1, 2019 are not subject to the lifetime ban, but are still subject to the ten-year ban and the federal lifetime ban under the Lautenberg Act, 18 U.S.C. § 922(g).
The goal of the new law is to better protect victims of domestic violence.
Anyone who is found to violate § 29805 by owning, possessing, having custody or control of a firearm or ammunition or having access to a firearm or ammunition is subject to up to one year in county jail and / or a fine of up to $1,000 or state prison for one year. The one-year state prison term would most likely be imposed if the person is concurrently convicted of a felony offense with a state prison sentence, whereas the county jail term would be more likely if defendant is not convicted concurrent with any another offense.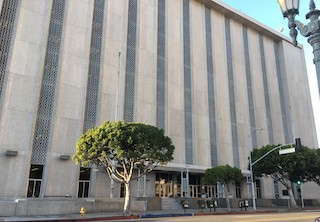 Metro Courthouse
Prior to January 1, 2019, the length of the ban was ten years under California law, but now it is a lifetime ban. This has the practical effect of making California's firearm ban equal to the federal ban under 18 U.S.C. § 922(g)(8), which imposes a lifetime ban on anyone convicted of misdemeanor domestic violence.
Expungement of the conviction does not restore one's right to own, possess, has custody or control or have access to a firearm.

The new California law is based on passage of Assembly Bill 3129. It also requires the California Department of Justice to participate in the National Instant Criminal Background Check (NCIS) to notify the dealer and the chief of police in the city or county where the sale was made that the person is prohibited from owning, possessing, buying or having control or custody of a firearm under federal law.
The new law does not remove or narrow the scope of the already existing ten-year ban under California law that will still apply to anyone convicted of violating California Penal Code §§ 171c, 171d, 186.28, 240, 241, 242, 243, 243.4, 244.5, 245, 245.5, 246.3, 247, 273.5, 273.6, 417, 417.6, 422, 422.6, 626.9, 646.9, 830.95, 17500, 17510, 25300, 25800, 30315, or 32625, subdivision (b) or (d) of Section 26100, or Section 27510, or Section 8100, 8101, or 8103 of the Welfare and Institutions Code, any firearm-related offense pursuant to Sections 871.5 and 1001.5 of the Welfare and Institutions Code, Section 490.2 if the property taken was a firearm, or of the conduct punished in subdivision (c) of Section 27590, and who, within 10 years of the conviction, or if the individual has an outstanding warrant, owns, purchases, receives, or has in possession or under custody or control, any firearm.
The scope of the new law seems to be only increased to affect 273.5 as a misdemeanor, but one would be wise to review its already existing provisions of imposing a ten-year firearm ban for a conviction for violating some of the more common Penal Code sections we regularly defend clients from – 242 (simple battery), 243 (battery upon one's girlfriend, boyfriend, spouse or someone with whom defendant had a dating relationship), 273.6 (child abuse), 417 (brandishing a firearm), 422 (criminal threats) and 646.9 (stalking).
The effects of this new law are largely unknown. It would seem to extend the state prison commitment of certain folks already sentenced to state prison if found guilty of violating this provision. It would also seem to add to the county jail population.
The new law may also be argued to be an ex post facto law for those who committed the offense before January 1, 2019, but who are not convicted until after January 1, 2019.
Contact us.