Should I Sign the Prop 63 Firearm Relinquishment Form?
As the reader of this article may be aware, California voters approved Proposition 63 on the November, 2016 ballot. Starting January 1, 2018, there were a host of measures that went into effect to implement Prop 63's provisions under Penal Code § 29810.
The Gist of this Article: After Proposition 63 was passed into law, effective January 1, 2018, each person convicted of certain crimes (all felonies and misdemeanor domestic violence, among others) had to disclose his or her possession of certain weapons to the court and to consent to a possible search of his home. This article presents why one should and should not agree to such a search on the form.

This article's narrow focus is on a form that judges are asking defendants to sign upon being convicted of those crimes that trigger a federal lifetime ban on owning, possessing or buying a firearm, ammunition or ammunition-feeding devices such as magazines, speed loaders, autoloaders and clips.
The form (link to it -
https://www.greghillassociates.com/docs/bureau_of_firearms_instructions_form-2018-.pdf
) asks the defendant to provide an address where he or she resides and to provide information about the firearms he or she has and to give the local probation department the power of attorney to come to the house to seize the weapons (or verify they were relinquished to law enforcement, an authorized gun dealer or destroyed).
The concern most defendants and criminal defense attorneys have is that, especially in cases where defendant is not subject to a Fourth Amendment waiver as a condition of probation, law enforcement will consider the form a waiver of probable cause for a search. Legally, there is no provision that permits such a waiver.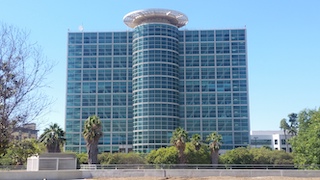 Airport Courthouse
When defendant is on probation with a Fourth Amendment waiver, however, the concern becomes that police will police will go the home pretextually to verify that no firearms, ammunition or ammunition-feeding devices such as magazines or clips exist, but in the process will "inadvertently" discover drugs, other firearms traceable to unsolved crimes or stolen property, etc. Such items may be planted by police who dislike defendant or feel he or she needs to be taken into custody again.
Police could also find someone there who has a bench or arrest warrant outstanding or is otherwise not supposed to be living there (i.e. another probationer or parolee, someone restrained by a court order from being near another person, or a sex offender living in a location that is not his registered residence). This type of evidence may not only be evidence of a new crime and a probation violation, but it may have immigration consequences and federal law violation potential, too.
After all, a waiver of Fourth Amendment rights as a condition of probation does not permit searches undertaken for harassment or searches for arbitrary or capricious reasons.
People v. Bravo
(1987) 43 Cal.3d. 600, 610, 238 Cal. Rptr. 282, 738 P.2d 336. The legal meaning of the word, arbitrary, when considered in the context of the previous sentence of
Bravo, supra
, [43 Cal.3d at page 610,] must relate to the executing officer's motivation. Where the motivation is unrelated to rehabilitative and reformative purposes or legitimate law enforcement purposes, the search is arbitrary. For example, had the officer been motivated by personal animosity toward [the probationer] or his family, execution of the consent search would be arbitrary.
In re Anthony S
. (1992) 4 Cal.App.4th 1000, at p. 1004; see also
People v. Sardinas
, 170 Cal. App. 4th 488, 495-496 (Cal. Ct. App. 2009).
So our advice is to tell the defendant that if fined with an infraction, be prepared to pay the $100 fine or whatever the penalty is that the judge decides or take your chances with a search of your house that renders you vulnerable to a dirty cop who may not be trustworthy.
We recognize the Catch-22 or Hobson's Choice facing the defendant: the refusal to sign the document may constitute probable cause to search the home and signing the document seems to give the police carte blanche to turn the house upside down in verifying no firearms exist.
In the Torrance courthouse, in one department, if defendant refuses to sign the document, the case is immediately referred to another judge to conduct a probable cause hearing on the issue and so far, surprise surprise, the judge has always found probable cause to allow such a search. In Van Nuys Superior Court, a refusal to sign the document results in an automatic new case for an infraction for refusal to sign the document.
Nonetheless, no attorney should recommend that a person violate the law, so our role is really to help the client decide for himself or herself based on the risks associated with a search of one's house.
For more information about firearms issues, please click on the following articles:
Federal Lifetime Ban on Owning a Firearm Applies After Misdemeanor Conviction for Domestic Violence under California Law
Contact us.