What Should I Do to Get My Firearms Back from the Cops?
It is not uncommon in domestic violence matters, as well as drug offenses, that police officers will confiscate a suspect's firearms when making the arrest. Getting the firearms back if the case is not filed, is dismissed or is ultimately resolved can be vital to the defendant keeping his or her job. The firearms may also be quite expensive or they may be family heirlooms with great sentimental value.
How does one ensure the police do not think they can destroy the weapon or that it is abandoned?
Why This Article Matters: Depending upon the police department or sheriffs department that took possession of one's firearms, procedures vary. However, it is critical that one communicate in writing, specifying the weapon by serial number (if applicable) and make / model, that one does not want the firearm destroyed or sold. It is prudent to attach a Law Enforcement Gun Release Application and send it both to the police and California Department of Justice Bureau of Firearms.
How does one cause the police to return the firearm(s)? The answer often varies by police department, but the first step always is to let the police know in writing that you want the firearms back and thus, that you are not abandoning the firearms.
In such a letter, it is wise to attach a Law Enforcement Gun Release Application and submit it separately to the California Department of Justice Bureau of Firearms. The application calls for one's date of birth, social security number, driver's license, address and phone number and of course, the gun make, model, serial number and any other identifying information.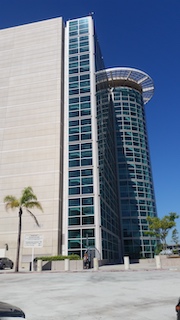 Airport Courthouse
The Bureau of Firearms, in response to such an application, will conduct a background search on the applicant and then issue a letter stating whether you are eligible to legally possess a firearm.

If you get such a letter, this is not always the "golden ticket" for the return of your firearm(s). However, you should contact the police agency immediately and arrange an appointment to pick up your weapon(s).
Police may simply turn the weapon(s) over, as one would hope. However, they also can require a court order allowing this. This can be problematic if your case was never filed, i.e. it was a DA reject. When this is the case, it is best to seek the assistance of an experienced criminal defense attorney in the local area who often appears in the courthouse at issue and may have covered this issue before, or who can ask another seasoned attorney in the area for advice. Often, such a judge's order will require the stipulation of the prosecutor, who will in turn wish to speak with the handling detective, who inevitably is difficult to find or engage in focused thought on one case.
More fundamentally, this is problematic because police obviously took the weapon from you and it is presumed that you were the lawful owner of that weapon. Evidence Code § 637 creates such a presumption.
Police also may advise you that your weapon is not entered in the AFS, or Automated Firearm System. This is true of any handgun, as the weapon can only be returned to its lawful owner under Penal Code sections 33855(a) and (b). However, sometimes law enforcement does not strictly follow this requirement and only require some proof, such as a transfer document you may have from a gun show, showing you lawfully received the weapon.
If you are seeking the return of a "long gun," such as a rifle or shotgun and police hesitate to return the weapon because it is not listed in the AFS, this may be an improper ground to refuse the weapon's return, as 2016 was the first year that "long guns" were included in the AFS. In other words, if one acquired the long gun before 2016, the weapon's serial number and the owner's identifying information would not be entered into the AFS system and this needs to be gently explained to the police.
For more information about firearm issues, please click on the following articles:
Federal Lifetime Ban on Owning a Firearm Applies After Misdemeanor Conviction for Domestic Violence under California Law
Contact us.