How Do I Get My Gun Rights Back After a Conviction?
The above question is asked of our office at least once per week and each time that is asked, we have to answer by asking what the person's conviction was for and whether he or she served time in prison on a felony conviction.
Brief Synopsis: Regaining one's gun rights after a conviction may be as easy as filing a Penal Code 17(b)(5) motion, but it also may be as hard as getting a state pardon for the offense.

From the answers that a caller gives us, we may be able to tell them that if the caller was convicted of a felony, but it was reduced to a misdemeanor later (it was a "wobbler") and it was not a domestic violence conviction, this reduction alone will restore the individual's right to bear arms. This reduction will restore the individual's rights under state and federal law because the crime is thereafter considered a misdemeanor "for all purposes."
Gebremicael v. Cal. Comm'n on Teacher Credentialing
(2004) 118 Cal.App. 4th 1477, 1483; see also
United States v. Marks
(9th Cir. 2004) 379 F.3d 1114, 1117.
Besides convictions for domestic violence (that are subject to a lifetime firearm ban under federal law, the Lautenberg Act, 18 U.S.C. § 922), there are very narrow exceptions to the immediate "for all purposes" language. For example, if one was convicted of a felony under Penal Code § 626.9 (the Gun Free School Zone Act), the person is subject to a lifetime firearm prohibition under Penal Code § 29800. However, if one does succeed in one's motion to reduce the conviction to a misdemeanor (§ 626.9 is eligible), the right to a firearm or ammunition is not immediate. Under Penal Code § 29805, the person must still wait ten years from the date of the conviction to restore such rights despite the reduction of the crime to a misdemeanor.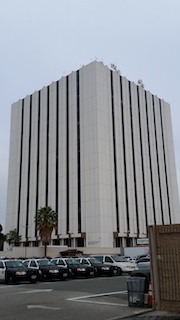 Compton Courthouse
If the conviction is not eligible for reduction to a misdemeanor, or the individual has sought such relief, but the motion was denied, the individual only has one alternative and that is to petition the Governor for a pardon, either directly or through first seeking a certificate of rehabilitation. See Penal Code §§ 4852.01, 4852.21.
Quite often, the individual seeking such a reduction of the charge to a misdemeanor has not filed such a motion. We then advise that such a motion is unlikely to be granted if the person received a state prison sentence imposed (if it was suspended but never imposed, the person is eligible under Penal Code § 17(b)(3)) or the individual went to county jail under Penal Code § 1170(h) (AB 109).
Occasionally, a caller will explain they have a federal conviction that subjects them to a California ten-year ban and a federal ban. The person will ask if we can file anything in a California court to have the bans overturned. The answer is simply no. The federal conviction(s) must be addressed in federal court where the conviction took place or by seeking a pardon from the President of the United States.
Similarly, a California court cannot address a state court conviction suffered in another state, even though that out-of-state conviction subjects the person to California's prohibition on owning or purchasing a firearm or ammunition.
Interestingly, and quite commonly, a person will call us about addressing a felony or misdemeanor domestic violence conviction that subjects the person to a federal and state firearm ban, but the person is joining the military. We then can happily advise them that there is an exception to the federal firearms ban for possessing any firearm or ammunition acquired for use by the U.S. or any of its departments or agencies, or to any state or any of its departments, agencies or political subdivisions. However, this exception does not cover a conviction for domestic violence, even if misdemeanor domestic violence.
It merits mention that the federal ban would not apply, but the state firearms ban of ten years may still apply to such a murderer.
In other words, theoretically, a person with a conviction for murder could possess firearms for service in the military but someone with a misdemeanor conviction for domestic violence cannot. This has caused many military members to be discharged from the military for a domestic violence conviction, even if a misdemeanor.
The foregoing leads to the inevitable and very common question of what a person with a misdemeanor conviction for domestic violence can do to restore his or her Second Amendment rights. The answer is that person can only apply for a direct pardon from the Governor. The person cannot apply for a Certificate of Rehabilitation first because the conviction was not for a felony.
For more information about firearms issues, please click on the following articles:
Federal Lifetime Ban on Owning a Firearm Applies After Misdemeanor Conviction for Domestic Violence under California Law.
Restoring the Right to Own a Firearm After Being Convicted in California of a Crime That Triggers a Ten-Year Ban Is No Easy Task
Contact us.