What is Homeless Court in Redondo Beach / Torrance?
While some may think our office is only for clients seeking to hire an attorney and therefore, we are not financially motivated to help the homeless, this is not true. We appreciate that educating potential clients, even if they cannot afford to retain us, has value in other ways.

We consequently present the following article about the Homeless Court in Redondo Beach that serves those having non-violent misdemeanor criminal matters pending otherwise in Department 2 (misdemeanors) of the Torrance Courthouse. The Airport Courthouse also has a homeless court up on the Ninth Floor that serves the large homeless population in Santa Monica and Venice, as well as all cities within the geographic area the Airport Courthouse serves.

Brief Synopsis: Homeless Court in Redondo Beach is an outdoor "court" that takes place in the afternoon once per month on Wednesdays. It is limited to handling nonviolent misdemeanors with particular emphasis on rehabilitation of the defendants, rather than punishment.

As those in the Torrance / Redondo Beach / Hermosa Beach and Manhattan Beach areas may know, there has been a persistent homeless problem in Redondo Beach for decades. Some have "taken up" living near the Redondo Beach Pier, some further inland in some of the parkland areas near the South Bay Galleria.

The homeless often interact with police for a variety of reasons: auto burglaries, public intoxication, shoplifting and drug sales are just some of the reasons. What distinguishes the homeless from others who commit these same crimes is that the homeless often are beset with mental health issues, a lack of family support and chronic unemployment.
The Torrance Homeless Court recently (September 9, 2020) moved outdoors, partly in response to Covid-19 social distancing needs, but also to be closer to those it serves. It is now located in a gated parking lot at 200 North Pacific Coast Highway. Judge Rene C. Gilbertson holds court there once per month on Wednesdays. Security is provided as in a regular courtroom by Los Angeles County Sheriff bailiffs.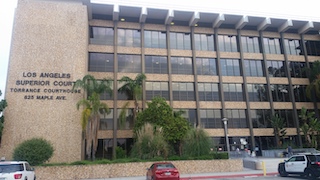 Torrance Courthouse
The location and the date, Wednesdays, was chosen because it is near St. James Catholic Church, which serves free, hot lunches on Wednesdays. The 200 North Pacific Coast Highway location is also close to the City of Redondo Beach's other homeless-services partners such as Harbor Interfaith, PATH, and CLEAR Inc, a mental-health services provider, which are on-site to assist with any court-ordered programs defendants may need.
Homeless Court was organized to help those who need it most. On September 9, 2020, for example, there were 47 cases on calendar.

The "Homeless Court" was thus established to try to address their unique needs. As Redondo Beach City Attorney Michael W. Webb said, "This program is designed to reach those homeless individuals who are most resistant to accepting needed services often due to chronic mental illness or addiction. Locating Homeless Court outdoors and adjacent to meals, mental health counseling, and other essential services, creates the greatest chance for success in the safest way possible. It has been inspiring to see our justice system partners work cooperatively to make this possible and towards the same end goal of getting the defendants permanent housing."
"We're here to help the homeless and help the community at the same time . . . it's not a problem that's going to solve itself," said Redondo Mayor Bill Brand.
Non-violent offenses committed by people experiencing homelessness are cited and taken to Homeless Court. Rather than a typical courtroom experience, defendants are given a choice: if they enter a guilty plea, they may have their judgment deferred until they complete a set of court-assigned programs, such as substance-abuse programs, mental health counseling, or obtaining housing vouchers – whatever is helpful for his or her needs.
If the homeless defendant fails to comply with the order, he or she will be found guilty and sentenced in accordance with the law. When defendant has complied with the court's orders for their services and found permanent housing (no longer homeless), they are considered to have "graduated" from the court's program and their case is dismissed. The public defenders assigned to the case then can help the graduates with expungement of prior convictions.
"We have a carrot-and-stick approach, but it's a really large carrot and as minimal a stick as we need," Webb said. "If someone is not going to get services, we do the punishment route. But we want to make it as easy as possible to accept those services."
At present, the court is scheduled to continue until August 2021, but this ending date may be extended, depending upon how effective the program seems to be.
For more information about alternative proceedings, please click on the following articles: