What Is Teen Court and How Does It Work? What Happens?
If you or a loved one faces a juvenile criminal case, the matter may be referred to Teen Court for pre-filing resolution. This is a good thing, as it avoids, at least initially, juvenile court if the juvenile is found not guilty or the juvenile successfully completes the terms of probation imposed by Teen Court.
You now want to know more about Teen Court such as how it works and what happens on the day assigned for handling your case.
In a Nutshell: Teen court is an informal, popular program in Los Angeles County wherein a juvenile offender is permitted to resolve the case before a teen court program, with a jury of teenagers at a local high school, usually as an alternative to going to juvenile court.

Teen Court is a diversion program intended to provide juvenile offenders with no prior criminal history an opportunity to avoid juvenile court. In Los Angeles County, it operates on the campuses of various high schools (i.e. Wilson High School, Redondo Union High School, Peninsula High School, Carson High School and Dorsey High School), at a local law school (i.e. in Pasadena) and even at a functioning courthouse (Newhall courthouse).
Teen Court is just what its name suggests – a pseudo or actual court proceeding involving teens as jurors, teachers, parents, local attorneys, a real judge, the Los Angeles Superior Court and the Los Angeles County Probation Department.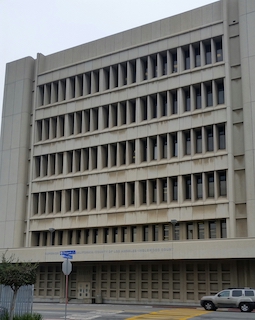 Inglewood Courthouse
Not all cases are referred to Teen Court. Most are non-violent, non-serious offenses, including but not limited to: obstructing or delaying a police officer (Penal Code § 148), making a false bomb report or placing a fake bomb somewhere (Penal Code § 148.1), making a false 911 call (Penal Code § 148.3), making a false police report (Penal Code § 148.3), giving false I.D. to a police officer (Penal Code § 148.9), battery (Penal Code § 242), sexual battery (Penal Code § 243.4), assault or battery on school grounds (Penal Code § 243.5), battery on a school employee (Penal Code § 243.6), disturbing the peace – i.e. by fighting in public or making a loud noise (Penal Code § 415), exhibition of a firearm (Penal Code § 417), second degree burglary (Penal Code § 459), possession of burglary tools (Penal Code § 466), petty theft (Penal Code § 484), vandalism (Penal Code § 594), trespassing (Penal Code § 602), bringing weapons onto school grounds (Penal Code § 626.10), disorderly conduct (Penal Code § 647(b)) and possession of more than 28.5 grams of marijuana or more than 4 grams of concentrated cannabis (Health and Safety Code § 11357(b).
However, our office has had juvenile cases involving hit and run (Vehicle Code § 20001), strong arm theft of a bicycle (Penal Code § 211) and criminal threats (Penal Code § 422) referred to Teen Court.
A juvenile offender between the ages of 11 and 17 assigned to Teen Court will have his or her case go to trial before a jury of high school students. In some Teen Courts, the high school students will act as prosecutors, defense attorneys and jurors, under the supervision of a local volunteer judge who can modify the sentence imposed if needed. In such courts, the jury of high school students will determine guilt or innocence. In other Teen Courts, the jury of high school students will only decide on sentencing.
High school students who participate as jurors do so voluntarily. They can also serve as clerks and bailiffs. The program is intended to teach not only the juvenile offender about courtroom protocol, but also the volunteer students, too. All participants are exposed to concepts of due process, property rights, liberty and justice.
If the Teen Court does find that the accused committed a crime, the Teen Court has the power to punish the accused, subject to the review of the volunteer judge. The accused is then placed on home on probation, subject to the supervision of the juvenile probation department, i.e. for completion of a class, performance of community service, writing apology letters, paying restitution, maintaining satisfactory grades, avoiding unexcused absences and tardiness at school and /or behaving at home.
We at Greg Hill & Associates think Teen Court is a great pre-filing diversion program that "fits." It is not too lenient and not too tough, but gets the message through to the offender.
For more information about juvenile diversion issues, please click on the following articles:
Contact us.