What Is the WIC 654 Program for Juveniles Accused of Crimes?
It is no surprise to many that one consequence of prison overcrowding being reduced is jail overcrowding by receiving prison inmates instead of the prisons. With jails becoming overcrowded, inmates are released early and even more crime takes place.
Why This Article Matters: Welfare and Institutions Code (WIC) § 654 provides for prefiling diversion programs for juvenile offenders who are found qualified for such opportunities. These programs are very good for the juvenile insofar as if the juvenile completes the program, no criminal case will be filed.
State officials have implemented a series of programs designed to decrease the number of people entering our criminal justice system. It has long been understood that recidivism of juvenile offenders is one contributing factor toward increasing numbers of adult offenders.
At the same time, juvenile courts are recognizing that they must take more care in how they punish certain juveniles, especially the ones who are most likely to commit future crimes. More effort and time must be taken to rehabilitate such youths.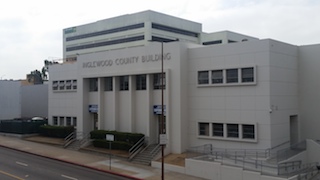 Inglewood Juvenile Courthouse
Other juvenile offenders do not require so much judicial oversight. Such youths, after screening by a probation officer, may be offered the WIC 654, or Welfare and Institutions, Code Section 654 program. It is a program usually reversed for low level crimes such as minor vandalism (Penal Code § 594), possession less than an ounce of marijuana (Health and Safety Code § 11357(b)), minor shoplifting (Penal Code § 484(a)) or trespassing (Penal Code § 602). Usually, the crime is a first-time offense for the youth.
An offer of the WIC 654 programs usually follows an interview of the juvenile alone with a probation officer, as well as an interview of the juvenile's parents with same probation officer.
The program is considered informal supervision and delays and possibly prevents a criminal case filing against the juvenile. In other words, it prevents the creation of a conviction, or even the filing of a juvenile petition (a "case"). The program typically last six months, with periodic meetings of the juvenile and his or her parents with the probation officer.
The program involves the juvenile and his parents signing an agreement, a contract, with the probation department, promising that:
The juvenile will obey all laws and orders of the probation officer;
The juvenile will obey all instructions and orders of the juvenile's parents and school officials;
The juvenile will maintain a curfew between 5 p.m. and 7 a.m. unless modified by the parents or the probation officer;
The juvenile will maintain satisfactory grades in all academic classes;
The juvenile will attend a counseling program;
The juvenile will not associate with anyone disapproved of by parents or the probation officer;
The juvenile will be subject to random drug testing by medical staff (often in conjunction with the counseling program) or an outpatient program and provide monthly drug test results; and
Be subject to random room searches by parents and the probation officer.

The program is a good opportunity for a juvenile to "earn" a "no-file," meaning he or she gets to show his future should not be scarred with a juvenile case filing. It is also a creative way for the criminal court system to prevent jail and prison overcrowding by giving more personal attention to low level juvenile offenders who may have had a mere lapse in judgment.
It merits mention that the juvenile's arrest may still raise an eyebrow on any background check that an employer, college or other organization may conduct. To have the notation of an arrest of the juvenile removed, it is difficult, but the juvenile may file what is loosely known as a petition for factual innocence (PFI) under Welfare and Institutions Code §§ 781 and 781.5.
For more information about juvenile sentencing, click on the following articles:
Juvenile Found in Possession of Less than an Ounce of Marijuana – What Are the Defenses and What Is the Possible Punishment?
Contact
Greg Hill & Associates