Juvenile Found in Possession of Less Than an Ounce of Marijuana
The first encounter many juveniles have with police is for possession of a small amount of marijuana. It can be an intimidating experience, punctuated by a parent's loss of confidence in their son or daughter.
The gist of this Article: With the recent passage of Proposition (Prop 64), possession of less than an ounce of marijuana by someone between 18 and 21 is an infraction punishable by just a fine unless the person is found in certain places, i.e. on school grounds. If the person is under 18, it is an infraction as well, punishable by a fine, community service and classes.

When one is under 18 and found with less than 28.5 grams (an ounce) of marijuana, other than concentrated cannabis, life is not over. The juvenile is not looking at three years in state prison unless there are other much more serious charges associated with the arrest.
Before discussing the possible punishment, it is best to understand what qualifies as a violation of the law, which is set out at Health and Safety Code § 11357. First, one must actually possess or constructively possess the marijuana in a useable amount. This means that if the amount is less than two or three grams, it is probably not a violation of 11357. Possession means you have it under your control, i.e. in your pocket, in your car's center console, in your backpack or in your bedroom in your desk.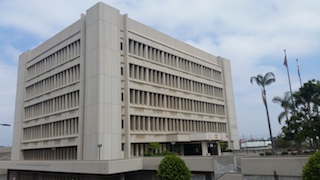 Inglewood Courthouse
Second, you must know that you have it in possession and you must know it is an illegal drug. If you did not know it was where it was found, i.e. your friend left it in your car, this is a tough argument to make, but it might prevail, depending upon the circumstances. You must also understand that what you have is illegal.
After reading what is required to convict someone, certain defenses may come to mind. A common defense is that the marijuana is "medical marijuana," as permitted under Health and Safety Code § 11362.5. A valid medical marijuana recommendation card or license is usually required to assert this defense.
A second defense is the "it's not mine" defense. This does arise when police pull up to a group of teens and before the police can get out of their car to speak with the youths, one kid asks another to "hold this," forcing it into someone's hoodie pocket. Police then find marijuana. This same defense can apply if one is borrowing another person's jacket and unbeknownst to the borrower, the jacket holds a small bindle of marijuana.
A third defense, which is often applicable in DUI and drug offenses, is that the police made an illegal traffic stop. This is not unusual when police see a car full of young kids driving down the road, especially late at night. The stop may be based on alleged speeding, "lane straddling," an illegal lane change or some other perceived violation of the Vehicle Code that will not survive an experienced attorney's review of the police report.
When there is an illegal traffic stop, an attorney can file a motion to suppress evidence under Penal Code § 1538.5, based on the illegal traffic stop allowing discovery of the marijuana. If such a motion is granted, the case is usually dismissed because the prosecution has no other legally obtained evidence to prosecute the case.
If none of the above defenses apply, what is the punishment? On a first conviction under this code section, the fine is $250, plus penalties and assessments making the total payment to the court of about $1600. This can often be satisfied through an equivalent amount of community service.
In addition, because a juvenile is under age 21, the juvenile's driving privilege is suspended for a year under Vehicle Code § 13202.5. Section 13202.5 applies even if the offense was unrelated to driving. If the person convicted does not have a driver's license yet, the court will order the DMV to delay the ability of the person to drive by a year once the person is eligible to drive.
On a second conviction, the fine doubles to $500 and there is a maximum ten day commitment to a juvenile detention facility such as, in Los Angeles County, Los Padrinos. The court will also again suspend or delay the person's driving privileges as in a first-time possession offense.
For more information about juvenile offenses and diversion, click on the following articles:
Contact
Greg Hill & Associates