Can't I Tell the Judge & Prosecutor That I'm a Good Person!?
Some clients often tell us to let the prosecution know that they go to church every Sunday, or maybe even two or three times each week. Other clients urge us to tell the judge that they are current on their child support payments. Yet others are fiercely proud that they have no prior criminal record, at least until the pending matter.
Brief Synopsis: One certainly may tell the judge and the prosecutor that he or she is a good person, but the timing and method of doing so is very important so that the message is considered in mitigation and not ignored. Please read this article to learn when and how to present such evidence, hopefully through your attorney.

Can a defense attorney tell the jury these things in defending our client? Generally speaking, absolutely not. California Evidence Code § 1101 prohibits the introduction of character evidence to prove conduct on a specific occasion. The exceptions to this general rule are narrow, but courts are strict in allowing a jury to hear it, especially if it favors a defendant. These include evidence of specific character traits to show conduct in conformity with this during a specific event, i.e. defendant had a reputation for going to church every Sunday at 7:00 p.m., so it is impossible that he would have methodically taken money from a safe every Sunday at 7:15 p.m. for five weeks in a row.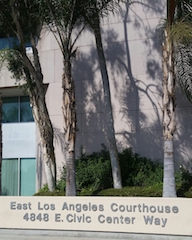 East LA Courthouse
The exceptions to Evidence Code § 1101 in favor of the prosecution are more liberally allowed. Under Evidence Code § 1108, in a case involving a sex offense, the prosecution may introduce evidence of defendant having committed a prior sex offense, if relevant to the pending sex offense. California criminal jury instruction (CALCRIM) 1191 directs the jury that it may consider such prior conduct.
Under Evidence Code § 1109, in a case involving domestic violence or elder abuse, the prosecution may let the jury know about other instances in which the defendant committed such offenses, even if not charged. CALCRIM 852 advises the jury that it may consider such prior instances of domestic violence as making it more likely that defendant acted similarly in the case for the jury to decide.
However, with both 1108 and 1109, the prosecution must give defendant advance warning of an intent to introduce such evidence, as it can be quite explosive and result in unfair prejudice. Thirty days of warning before the trial date is generally required.
Under Evidence Code § 1103, evidence of a victim's character may be introduced, subject to the judge's discretion, to show a victim acted in conformity with that character in the case before the court. For example, in a prosecution for assault where self-defense is raised, evidence of the victim's violent character shown through past conduct is admissible to show the victim was more likely the aggressor.
People v. Shoemaker
(1982) 135 Cal.App.3d 442, 446-447;
People v. Rowland
(1968) 262 Cal.App.2d 790, 797;
People v. Smith
(1967) 249 Cal.App.2d 395, 404-405.
The more common use of good character evidence is in sentencing, but the jury does not sentence a defendant. Only the judge decides a sentence. When our clients provide us such evidence, we are careful to clarify that first and foremost, the facts of the case are the most important things in a case. After all, if there are no facts that establish our client committed statutory rape, it would be almost conceding fault for the crime to begin our representation of the client by telling the prosecutor about our client's regular attendance at church or membership in the Elks Club or PTA. Instead, we need to tell the prosecutor that a dismissal is mandatory because, for example, the victim described the client as short when our client was six feet, three inches tall.
When the facts of the case suggest a difficult case as to liability, we like to negotiate with the prosecutor by reminding him or her that at trial, there are legal issues which while favoring the prosecution, may also cause a juror or jurors to find in defendant's favor. In other words, if the facts are unfavorable, we must address legal issues that could resolve in our client's favor, either through dispositive motions the judge will decide or in jury instructions that jurors will follow to our client's benefit.
Lastly, we will advise the prosecutor of the client's good character insofar as it shows the conduct at issue was aberrant and not likely to reoccur due to his or her reputation. We will mention the client's good character to argue that the client deserves a second chance. We will also present documents showing the client's solid character to demonstrate how embarrassed the client must be by facing such charges and to show our law firm's investment in the client. After all, we want the prosecution to appreciate that we respect our client and we will work together as a cooperative team if the case goes to trial.
In other words, character evidence is relevant and admissible, but only in narrow contexts. In general, it is not to prove conduct on a specific time. Within the limited ways that character or reputation evidence is admitted, more often than not it is to benefit the prosecution, rather than defendant. However, such evidence can be effectively used in plea bargaining, but our office prefers to first focus on factual disputes, then legal issues and lastly, character evidence.
For more information about plea bargaining, click on the following articles:
Contact
Greg Hill & Associates