What Is Evidence Code § 1161(b) and When Does It Apply?
You or a family member may have been in court and heard that Evidence Code § 1161(b) would apply to bar the introduction of certain highly prejudicial evidence. What kind of evidence would this be? Why is such evidence excluded from the jury's consideration?

The Reader's Digest Version: Evidence Code § 1161(b) provides that evidence of sexual history or evidence of sexual history of a victim of human trafficking is inadmissible to attack the credibility of a victim in a criminal or civil case.

Evidence Code § 1161(b) provides that "evidence of sexual history or history of any commercial sexual act of a victim of human trafficking . . . is inadmissible to attack the credibility or impeach the character of the victim in any civil or criminal proceeding."
How is this applied in a real case, for example?

The following reported opinion out of the Fourth Appellate District in Orange County is sad, but true, and does exemplify how such evidence is inadmissible.
D.T., whose initials are used to identify her because she was (and still is) a minor, was born in October 2002. Beginning in 2015, she was placed in foster homes or group homes because her father physically and emotionally abused her and had a substance abuse problem. In May 2016, she ran away from a group home in Victorville and went with a friend to visit a man named Raymond, who was the cousin of John Wayne Calhoun.
At Raymond's house, D.T. met Calhoun. She spent the night at Raymond's house and in the morning, Calhoun took D.T. and her friend to a store. D.T. and Calhoun waited in the car while D.T.'s friend went into the store. Calhoun asked D.T. how old she was, and D.T. said she was 21. Calhoun said he was 30.
Calhoun asked D.T. "if she had ever made money before." D.T. did not know what Calhoun was talking about and said no.
Calhoun then asked D.T. to go with him to the home of Anntaneisha Louie, who Calhoun called "Auntie" in San Bernardino. D.T. agreed. They went there and picked up some women's clothing for D.T. While at Louie's house, Calhoun again asked D.T. is she had ever made any money. When D.T. asked what he meant, Calhoun asked if she "had ever slept with people to get money." D.T. said no.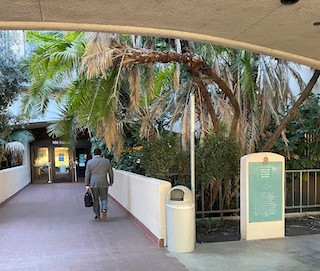 San Fernando Courthouse
After spending a few days at Anntaneisha's house, Calhoun drove D.T. to Ontario, where he picked up two women living in an apartment complex. Calhoun then drove the women to a hotel in Los Angeles. Calhoun then selected a dress from a bag of clothing and told D.T. to put it on.
Calhoun then took pictures of D.T. and posted the photos on Backpage.com, a website no longer in operation, but when it was, was a well-known website for johns to find prostitutes. D.T. was becoming scared of Calhoun and was fearful of saying no to his scheme, so she agreed.
About an hour later, Calhoun received text messages from a man interested in D.T. and drove D.T. to meet a customer in San Bernardino. Calhoun gave D.T. a price list for certain acts. He also gave her a condom and told her to always have the customer use one. He told D.T. to call him "Daddy" and always delete any text messages they exchanged so the messages would not be available if police looked at her phone.
D.T. then met the customer (she was 13 at the same), performed the sex act, was paid $80 and gave all the money to Calhoun.
Over the next few weeks, he had D.T. working the "blade" of G Street in San Bernardino (an area frequented by prostitutes) as well as the area of Harbor Boulevard and Hazard Avenue in Santa Ana, also known as a "blade" and well known for pimping of underage prostitutes.
Before too long, Calhoun was detained, charged and convicted in Orange County Superior Court of human trafficking of a minor, pimping a minor under the age of 16, pandering a minor under the act of 16, lewd and lascivious acts on a child under the age of 14, unlawful sexual intercourse and oral copulation of a child under the age of 14. The jury found it true that he used force, fear, fraud, deceit, coercion, violence, duress, menace or threat of unlawful injury in committing the crime of human trafficking.
The trial court judge, Steven D. Broomberg, sentenced Calhoun to fifteen years to life in prison with a consecutive term of six years and a further consecutive term of two years for other acts.
During trial, Calhoun had sought to introduce evidence that after he was arrested and awaiting trial, D.T. had been arrested for solicitation of prostitution to impeach her character. Judge Broomberg sustained the prosecution's objection to the introduction of such evidence.
Calhoun appealed this ruling, as well as many others, to the Fourth Appellate District, which affirmed Broomberg's ruling on such evidence, adding that Evidence Code § 352 barred such post-arrest evidence as irrelevant toward tending to prove or disprove conduct that Calhoun allegedly took part in before his arrest.
The citation for the Fourth Appellate District Court ruling discussed above is People v. John Wayne Calhoun (4th App. Dist., 2019) 38 Cal.App.5th 575.

Contact us.