Pimping & Pandering – What If Woman Already a Prostitute?
The Gist of this Article: A person can be convicted of pandering (Penal Code § 266i(a)(1)) even if the woman at issue is already a prostitute, as the following case explains.

Markece Jovon Chatman was convicted of pandering (Penal Code § 266i(a)(1)). To violate § 266i(a)(1), if he or she "procures another person for the purpose of prostitution."

Antoinette was unhappy living at home with her mother, stepfather and other relatives. She lived in Sacramento. She had no income and felt out of place. Her cousin, who had been working as a prostitute in the Bay Area, encouraged her to join the profession and when Antoinette agreed, the cousin "schooled" her on the way to make a living and stay reasonably safe.
The cousin then advertised Antoinette's services on Backpage.com (now this website is taken down), a website then used by prostitutes and their customers.

The cousin also introduced Antoinette to Markece Jovon Chatman so he could help her with her prostitution. Mr. Chatman and Antoinette spoke via phone and text. Antoinette labeled Chatman on her phone as Dad Mob.
When asked by police about this, she explained that a pimp is often referred to a dad or daddy by a prostitute. When Chatman asked Antoinette for a picture of her and who had advertised for her in the past, she explained her cousin had set her up. Chatman then complimented her on the photograph and assured her that he would "get her on a program."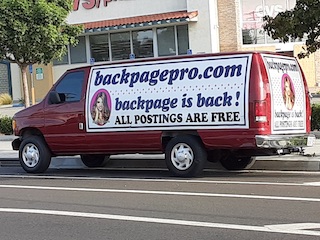 Backpage Dot Com Advertising Van, Van Nuys
He told her he wanted to take her on a trip to the Bay Area. Antoinette asked if he would have her "walking," Chatman said, "just a lil" and volunteered to post ads for her services on the Internet. She then spent a week with Chatman, traveling with him to Vallejo, San Jose, Concord and San Francisco.
She left Sacramento with hopes of having a romantic relationship with him while working together to expand her business opportunities. In Vallejo, Chatman picked up some provocative clothing for her to wear while she worked. He later dropped her off in San Jose, handing her condoms and warning her not to engage in prostitution with black men. She then went to Concord, where she had three or four "car dates" having either oral sex or intercourse with her "clients."

Her relationship with Chatman soured quickly, as he slapped her and they slept in the car. On one occasion, Antoinette told Chatman that she thought someone was following her and he responded, "Just walk and pay attention to the money and stay off the phone." Chatman continued to advertise her services and encourage her to commit acts of prostitution and he reaped the benefits of the money she earned. She testified that she gave him all the money she earned. Chatman then used the money to buy food and gas. He often would choke her and beat her.
Antoinette soon became disillusioned with Chatman and prostitution. She then called another cousin to come and pick her up. However, Chatman and she continued to text each other. Chatman told her to come back.
It is unclear how Chatman was then arrested for alleged pandering. The case went to a jury trial, wherein Chatman was convicted of pandering. He then appealed the conviction, arguing to the Third Appellate District in People v. Markece Jovon Chatman (2019 DJDAR 83) that the judge made a mistake of law by not allowing his proposed jury instruction on pandering.
Chatman's proposed jury instruction was based on People v. Zambia (2011) 51 Cal.4th 965, wherein the California Supreme Court addressed Penal Code § 266i(a)(2), not the code section under which Chatman was prosecuted, § 266i(a)(1). In Zambia, it was held that the jury had to find "defendant successfully caused, induced, persuaded or encouraged someone to become a prostitute."
Chatman argued therefore he was innocent because Antoinette was already a prostitute, he could not be guilty of making her a prostitute.
However, the trial court held and the Third Appellate District affirmed that Penal Code § 266i(a)(1) requires only that a defendant "procure another for the purpose of prostitution," so Zambia's analysis of what it means to become a prostitute is inapplicable to a subdivision (a)(1) prosecution. Whether Antoinette was a prostitute already does not matter.
The citation for the Third Appellate District Court ruling discussed above is People v. Markece Jovon Chatman (3d App. Dist., 2019) 30 Cal.App.5th 989.

For more information about pimping & pandering, please click on the following articles:
Contact us.