Convictions for Pimping & Pandering with Character Evidence
The Gist of this Article: The prosecution may introduce text messages into evidence to show defendant engaged in pimping and pandering. In the following case summarized below, defendant objected to such evidence being introduced as character evidence and was overruled. He was then convicted. The rulings and the conviction were upheld on appeal.

In many criminal cases, a defendant will attempt to rebut the charges by arguing that he or she is really has good character. In response, the prosecution will usually object that under Evidence Code § 1101(a), character evidence or a trait of one's character is generally inadmissible when offered to prove his or her conduct on a specified occasion. Judges are quite familiar with this and generally uphold the objection.
Alternatively, under Evidence Code § 1101(b), the prosecution may try to introduce evidence of specific conduct to show a person had a motive, opportunity, intent, knowledge or plan to commit some act. This type of evidence is often objected to by the defense as a prosecution attempt to introduce evidence of bad character evidence to unduly prejudice the defendant.
This Push and Pull of Evidence can be a big Challenge for a Judge to Rule Upon
This was epitomized in the Westminster case of Raphael Jared Scally, charged with pimping (Penal Code § 266h(a)) and pandering (Penal Code § 266i(a)) in the Orange County Superior Court. The judge in the case was Michael J. Cassidy, who ruled correctly on the evidence.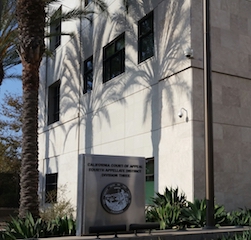 Court of Appeal 4th District Division 3 Orange County
Before evaluating the evidence, which was Mr. Scally's text messages to and from several women known by police as prostitutes, it is valuable to know the basic facts. On June 13, 2013, Santa Ana Police Officer Daniel Padron was working vice in an undercover status in a high prostitution area.
Officer Padron observed a Volkswagen driving down the street, when it abruptly stopped in the lane of travel, double-parking and two women left the car. The officer recognized the two women as having a history of prostitution and having online advertisements as escorts.
About 45 minutes later, Padron saw the same Volkswagen and for unclear reasons, made contact with the occupants, one of which was Mr. Scally. Padron found $194 in Scally's right sock. Padron asked Scally if he had a job and he said he did not. Padron asked him how he got the money and Scally said he did not know.
While Padron was talking to Scally, Scally's phone was ringing continuously. Text messages were being sent to Scally from a number labeled by Scally as "Sweetie." Padron responded to the text messages, asking "Sweetie" where she was and then arranging to meet her. Padron looked at Scally's phone further, seeing "Sweetie's" online prostitution advertisement and photographs of Sweetie and another girl.
Padron then met with "Sweetie," who was one of the two women Padron originally saw exiting the Volkswagen and who Padron knew was a prostitute. Padron then seized her phone and inspected the text messages, finding extensive communication with Scally about money and street slang commonly used in prostitution.
At trial, the People called an expert in pimping, pandering and prostitution. The People sought to allow the expert to testify about the text messages to show motive, intent and plan to commit pimping and pandering.
Scally objected, saying the text messages were attempts to introduce bad character evidence and that the text messages were really just innocent conversation between a boyfriend and girlfriend.
Judge Cassidy Overruled the Objection
The expert testified first to the online prostitution advertisements for each woman, which were texted to various people. The expert described how one woman had a tattoo on her thigh showing a crown with the letters "P" and "D" nearby and dollar signs underneath. The expert testified that such a tattoo is meant to show her loyalty to her "pimp daddy" or a pimp. The other woman had a tattoo of a flower on her thigh with a dollar sign underneath and the word "Stage," which is Scally's street name, or moniker. The flower with a dollar sign, the expert said, is meant to indicate a pimp / prostitute relationship with "Stage," or Scally.
The expert then read through the text messages for the jury, indicating various words that were common slang in the prostitution trade. These included "blade" (the area where a prostitute attempts to solicit business), "walk the blade," "date" (an agreed sex act with a client), "trick" (a john or a client), "grinding" (prostitution activity), and an "overnight date" (when a client agrees to pay for a prostitute's services for the entire night). All these words were offered in the context of discussing how much money the woman had earned each night.
The text messages further discussed Scally meeting with the woman off Harbor Boulevard on the side streets named Camille and Shannon, later picking her up only when she had earned enough money. The texts showed Scally telling the woman to earn a certain amount of money or quota before he would pick her up and praising her when she earned the designated amount.
The Jury Ultimately Convicted Scally
Scally then appealed to the Fourth Appellate District, which affirmed Judge Cassidy's rulings and thus, the conviction at 2015 DJDAR 13615. It explained that the text messages between Scally and the woman showed Scally was very knowledgeable in the pimping culture and terminology. More importantly, in one exchange just before Scally was arrested, the woman told Scally she had earned $200 and when he was found, he had $194 in his sock, with no explanation where he got it. In sum, the text messages were evidence that Scally encouraged the woman to engage in prostitution, the required act for pimping and pandering.
The citation for the Fourth Appellate District Court ruling discussed above is People v. Raphael Jared Scally (4th App. Dist., 2015) 243 Cal.App.4th 285.

For more information about the issues in this sex offense case, please click on the following articles:
I Am a Good Person! Can't I Tell the Judge and Prosecutor This? Maybe They'll Dismiss the Case, Right?
Sex Crime Defendant Has Right at Trial to Present Evidence of Alleged Victim's Prior False Sexual Assault Claims