What is Elder Abuse (Penal Code 368)? Defenses? Punishment?
Under Penal Code § 368, it is a crime to willfully or with criminal negligence cause unjustifiable physical pain, mental suffering (emotional abuse), financial abuse or gross or intentional neglect of a person defendant knew or should have known was age 65 or older. The conduct must endanger the life or health of the elderly person. This is a crime that has a civil remedy as well.
The Gist of this Article: Elder abuse is inflicting or causing physical pain, medical neglect, mental or emotional suffering or financial damage either by wilful intent or criminal negligence to a person defendant knew or should have known was 65 or older. It can be a felony or a misdemeanor.

If one is charged with violation of Penal Code § 368, it can be a misdemeanor or a felony. If convicted of felony elder abuse, one can face up to four years in state prison, as well as various sentencing enhancements that may apply due to defendant's prior criminal history and the severity of any injuries. A person convicted of felony elder abuse can also face a fine of up to $10,000 and up to thee years more in state prison (total of seven years) if great bodily injury is proven under Penal Code § 667.5.
If convicted of misdemeanor elder abuse, defendant can face up to one year in county jail and a fine of up to $6,000.

The biggest distinction between felony and misdemeanor elder abuse is that in felony elder abuse, defendant may cause great bodily injury, whereas in misdemeanor elder abuse this is not present. However, when financial elder abuse is the crime, or mental suffering is alleged, other distinctions between misdemeanor and felony conduct will exist. Other factors such as defendant's prior criminal history, the sophistication of the conduct and the victim's opinion about defendant can also be factors.
Not all defendants convicted of elder abuse end up serving time in prison or jail. Many cases are resolved with either formal probation in the case of a felony or informal (also called summary) probation if a misdemeanor, with conditions that often include a protective order to prevent further contact between the defendant and the elderly victim, financial restitution to the elderly victim to pay for medical treatment or financial damage, as well as anger management classes and / or community service, as negotiated through a plea bargain or ordered by a judge in sentencing.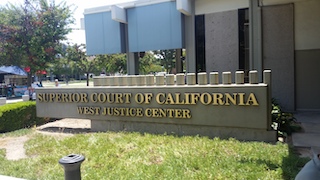 Westminster Courthouse
In order for a prosecutor to prove elder abuse, that prosecutor must show a jury or a judge that defendant acted with willfulness or criminal negligence, and as a result of such willfulness or criminal negligence, an elderly person suffered physical, mental, emotional and / or financial damage. The prosecutors who handle these types of cases are often from a special unit within the district attorney's office.
Emotional abuse can take many forms, but ridiculing an elderly person or isolating that person from others, while knowing its effect on the elderly person are good examples.
The defenses to such charges are lack of intent, i.e., that defendant never willfully (intentionally or purposefully) intended to cause physical hard, emotional abuse, mental suffering or financial exploitation of the senior person. Another defense is that defendant is not the same person who committed the harm, either because it is a mistaken identity issue or defendant has an alibi.
Of the cases we have defended, it is common for the accused to argue that the victim is affected by Alzheimer syndrome, that the victim is being coached by neighbors or another family member hoping to exclude defendant from some inheritance or the victim is highly influenced by suggestions and easily confused.

The crime of elder abuse is not something to downplay. There can be immigration consequences for someone who is not a U.S. citizen because a conviction for elder abuse is considered a crime involving moral turpitude.
This is why it is helpful to always have in mind alternative plea bargains that may avoid the consequences of a conviction for elder abuse. Defendant may find it less damaging to resolve the case as simple battery (Penal Code § 242), misdemeanor battery upon a spouse or one with whom defendant has a familial relationship (Penal Code § 243(e)(1)), misdemeanor false imprisonment (Penal Code § 236), misdemeanor criminal threats (Penal Code § 422), trespass (Penal Code § 602), or disturbing the peace (Penal Code § 415), depending upon the facts of the case, defendant's criminal history and the feelings toward the case of the victim.
For more information about elder abuse, please click on the following articles: