Insurance Broker's Financial Elder Abuse Conviction Reversed

The Reader's Digest Version: Conviction reversed for insurance broker's alleged violation of Penal Code § 368(d), financial elder abuse, because the jury was instructed on the intent requirement:

In 2008, Fran Schuber, then age 83, went to the office of Glenn Neasham, a licensed insurance agent, to buy an annuity. She went there with Louis Jochim, an 82 year old man with whom she had been living for the last 15 years. Jochim had been a client of Neasham for the last ten years. Jochim had previously bought an annuity, which he thought was a good investment, so he thought Schuber may want to do the same thing.
She bought an annuity approved by the California Department of Insurance for sale to persons up to 85 years of age. It was called a "Master Dex 10 Annuity."
The premium Schuber had to pay was $175,000, to which the issuer adds a $17,500 "premium bonus" if the policy is annuitized after the fifth year, so that the value of the annuity becomes $192,500 plus accrued interest.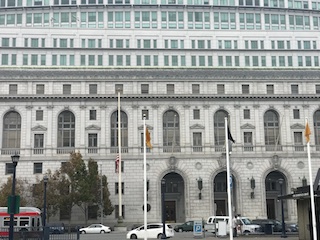 Court of Appeal First Appellate District San Francisco
There was evidence, later adduced at trial, that Neasham explained the terms of the Master Dex 10 Annuity, contrasted those terms and benefits with the terms of certificates of deposit and that she signed a form and that she understood the values and factors that affect the value of the annuity. Jochim testified, in fact, that Schuber was "very clear in her mind at the time she decided to purchase the annuity." Perhaps not surprisingly, Jochim was the named beneficiary of the annuity if Schuber died.
Neasham received payment from Schuber in the form of a check to Allianz Life Insurance Company of North America, which he then transmitted to Allianz. He received a commission of approximately eight percent from Allianz upon the purchase of the annuity.
When Schuber withdrew the money from her bank, it was such a large sum of money that the bank notified the Department of Social Services, claiming that it thought Jochim was exercising under influence on Schuber. The local police were then involved and they interviewed Schuber, who the police found was "generally confused." The police contacted Schuber's son and daughter in law, who learned they were being cut of any inheritance and testified that indeed, Schuber was suffering from dementia.
After several months of investigation, Neasham was arrested him for financial elder abuse based on theft and embezzlement theories. The complaint against him included allegations of violation of Penal Code § 368(d) (financial elder abuse) and allegations of violation of Penal Code §§ 12022.6(a) and 1203.045(a) that the theft was of property in excess of $50,000 and $100,000, respectively.
The case went to trial in Lake County. At trial, the jury was instructed that it could find Neasham had violated Penal Code § 368(d), financial elder abuse, if it found that Neasham permanently deprived Schuber of a major portion of the value or enjoyment of her property without her consent.
There was no instruction to the jury that Neasham needed to intend to cause this deprivation.
The jury convicted Neasham of committing financial elder abuse and he appealed in a timely manner to the First Appellate District.
The First Appellate District quickly found fault with the jury instructions (2013 DJDAR 13527). "The elimination of the intent requirement unquestionably misstated the law in an essential respect." It continued, stating, "the omission of an essential element of an offense from the court's instructions in an error of constitutional significance since the defendant is entitled to a jury's finding that all elements have been proved beyond a reasonable doubt."
People v Stewart
(1976) 16 Cal.3d 133, 141.
The appellate court also found that had the jury been correctly instructed, the outcome likely would have been different. After all, there was no evidence that Neasham appropriated Schuber's funds for his own use or to the benefit of anyone other than Schuber herself. There also was no evidence that Neasham made any misrepresentation or engaged in any fraud in the transaction.
Moreover, as the Court of Appeal commented, "under the prosecution's theory of the case, merely cashing a check for a person known to suffer from dementia would support a larceny conviction."
We think this case is a great example of how sympathetic facts can lead to a conviction that is improper. A better defense attorney would never had allowed such jury instructions to issue and would have zeroed in on this issue from the beginning of the case.
The citation for the First Appellate District Court ruling discussed above is People v. Glenn Neasham (1st App. Dist., 2014) 163 Cal.Rptr.3d 146.

For more information about elder abuse and embezzlement, click on the following articles:
Granddaughter Guilty of Financial Elder Abuse through Embezzlement and Moving Grandmother Out of Home.
Watch our video on theft offenses by clicking
here
.
Contact us.