What Is Business & Professions Code § 4067? Punishment?
Were you arrested with Viagra, Cialis or Prozac without having a prescription or selling such items without a medical doctor or pharmacy license? Were you selling it online on Craigslist or eBay?
The Gist of This Article: Being charged with a violation of Business & Professions Code § 4067 is the code section charged against a pharmacist or doctor for selling prescription only drugs without a prescription. It is similar to Business & Professions Code § 2052, the unlicensed practice of medicine, which is a wobbler and when charged as felony exposes one to up to three years in state prison.
As you may know, Viagra, Cialis and Prozac are not controlled substances insofar as they do not appear as Schedule I, II, III, IV or V controlled substances, so being charged with possession of a controlled substance for having them does not apply. In other words, an arrest for mere possession of such items is improper under Health and Safety Code § 11351 and Business & Professions Code § 4060, as each of these statutes refer to controlled substances.

However, their possession can be charged as a violation of California Business & Professions Code § 4067, "the unlicensed practice of pharmacy," if one has sufficient quantity that they can be resold and it appears that this is taking place. Section 4067 prohibits the sale of any dangerous drug or "dangerous devices," as defined in section 4022 without a prescription issued after a good faith examination of the person or animal.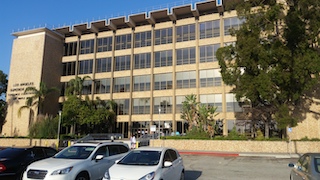 Torrance Courthouse
Section 4022 defines a dangerous drug as any drug that bears the label: "Caution: federal law prohibits dispensing without prescription, Rx only, or words of similar import" or is such that under state or federal law can only be dispensed by prescription, which would certainly cover Viagra, Cialis and Prozac. So selling such "dangerous drugs" to others would violate § 4067.
Naturally, the seller of such drugs may refuse to sell such substances without obtaining a copy of the prescription for the buyer and perhaps even verifying it is from a licensed physician or pharmacist. This, however, is rarely done. More commonly, the seller does not even request a prescription before making the sale. Indeed, the seller who does so will often lose the business to another seller who avoids imposing such a hurdle.
A licensed pharmacist would request such a prescription as a matter of operating protocol, which is why not requesting this is often the unlicensed practice of pharmacy.

The consequences of selling such items online without requiring a prescription is a fine of up to $25,000 per occurrence as a civil penalty imposed in a criminal action (i.e. like in the recent case involving a Pacoima candy store selling counterfeit drugs that was highly publicized) or up to the same penalty as ordered by the California State Board of Pharmacy in an administrative proceeding against the seller.

The best defense to such an action is asking each buyer if he or she has a valid prescription for the item sought for purchase, obtaining a copy of the prescription and then verifying the prescription is legitimate.
In our experience, however, most purchasers of such items do not have a prescription, which is why they are trying to buy the items online, where no prescription is demanded and if demanded, they can just lie that they have a valid prescription.

An alternative to fighting the merits of the case is offering to cooperate with the police in delivering other sellers of equal or similar scale, i.e. another online seller who does the same volume or more. Often, the sellers of such items are keenly aware of the prices of other sellers and are familiar with their competitors' business methods in an attempt to gain more market share. Sometimes, customers will share information with the sellers about their experience with other sellers and this information can help our client in dealing with the police.
For more information about drug offense issues, please click on the following articles:
Contact us.