What Is Possession of a Controlled Substance for Sale?
Why This Article Matters: Possession of a controlled substance for sale, a violation of Health & Safety Code § 11351, is a felony, punishable by two, three or four years in state prison. Probation is often available, but with some jail time usually. Such a substance includes cocaine, heroin, PCP and many others, but not marijuana or meth. Illegal searches are common, so it is best to have an experienced attorney look over the facts.

If you or a loved one has been charged with possession of a controlled substance for sale (California Health & Safety Code § 11351), it can be confusing why the facts support such a felony charge. This article does not obviously deal with the situation where someone offers to sell a controlled substance to an undercover police officer. Rather, this article covers the far more common scenario wherein one is arrested and found in possession of a controlled substance in an amount sufficient for several days or more than one dose.
As a preliminary matter, it must be clarified that a controlled substance includes a wide variety of illegal drugs, from cocaine, to ecstasy, to heroin, to LSD, to Oxycontin, to Vicodin (hydrocodone) without a valid prescription, to codeine without a valid prescription, to many others, but less common, such as peyote, GHB (gamma-hydroxybutric acid), ketamine and PCP.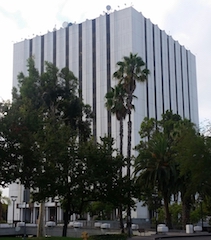 Compton Courthouse
When methamphetamine is the drug possessed for sale, a separate code section, Health and Safety Code § 11378, applies. Likewise, when marijuana is possessed for sales, a different code section applies, Health and Safety Code § 11359 or § 11357.5 (possession of synthetic cannabis for sale).
Possession means that someone knowingly has custody or control of a controlled substance such as those listed above. This does not require that one have the controlled substance in one's pocket or is holding it. Having the drugs in a backpack, within one's car or even in one's bedroom can suffice (constructive possession). The suspect must know the drugs were there, which is usually proven by the answers the suspect gives to police asking about where the suspect bought the substance and from whom.
Separately, one can buy drugs, but not yet have them in his or her possession, but be charged with this offense after paying for the drugs.
Possession does not have to be exclusive or by only one person. Possession can be "joint," meaning shared with one or more other people. An example of this may be possession of a large baggie filled with ecstasy pills on a coffee table in the common area of a two bedroom apartment. Each person living inside the apartment could be charged with possession of the ecstasy.
For sale means the drugs were not completely for personal use. This can be proven by circumstantial evidence in the quantity of the drugs found, which often leads to some seemingly absurd conclusions. For example, if one has one ounce of cocaine (28 grams), this is certainly more than just for personal use, but it is still a very low amount. Other indicia of sales are possession of a working digital scale, pay-owe sheets with lists of customers and what their outstanding owed balance is, multiple plastic baggies or bindles, individually packaged quantities, text messages showing sales, having multiple cell phones and, most commonly, having a large amount of money in small denominations.
Items tending to suggest personal use are the presence of drug paraphernalia (spoons, pipes, syringes) or that the suspect is high at the time of the arrest.
The punishment for possession with intent to sell is harsh. The custody time is two, three or four years in state prison, usually to be served in county jail, and a fine up to $20,000. A drug diversion program, such as doing 52 Narcotics Anonymous (NA) meetings, Prop 36 or PC1000 is not available when the conviction is for possession for sale. Probation is possible, although it is often combined with a short amount of time (30 to 90 days) in custody.
The most common defense in such cases is that the search was illegal, i.e. it violated the suspect's Fourth Amendment right against illegal search and seizure because no warrant was secured before the search. It is also a common defense that the person was not intending to sell the drugs because they were all for personal use.
For more information about drug offenses in general, please click on the following articles:
Contact us.