What is Assault with a Deadly Weapon Using a Car?
Unfortunately, people do use a car to intentionally injure others. We have seen it in the context of domestic violence, DUI, aggravated battery (in a road rage context), street racing / reckless driving / exhibition of speed, mayhem as against a pedestrian, and in juvenile matters. It is often charged as attempted murder, rather than assault with a deadly weapon (Penal Code § 245(a)(1)).
In a Nutshell: Assault with a deadly weapon using a car is usually brought as a violation of Penal Code § 245(a)(1), which is a strike offense if brought as a felony and there is great bodily injury; if no great bodily injury, it is not a strike. It can be brought as a misdemeanor, too, depending upon the facts of the case and defendant's criminal history.

It is important to note that the victim need not be injured at all for one to violate Penal Code § 245(a)(1). A violation occurs when defendant acts willfully, with an awareness that the car was likely to directly cause and probably result in the application of force or great bodily injury to another, directly, or by pushing something else into another. The critical inquiry by a prosecutor, judge and a jury is whether defendant acted in a way, with the awareness and willfulness required, that could have created injury or harm to another.
A car can be considered a deadly weapon insofar as it is an instrument that can be used in a way to cause substantial, significant or great bodily injury or death, so it can be classified as a deadly weapon. People v. Aguilar (1997) 18 Cal.4th 1023.
The most common defense to such a charge is often the lack of willful intent to cause any injury to another. In other words, the injury to another was simple negligence. This defense may be possible under circumstances that tend to show defendant had no anger or motivation to injure the victim.
In the context of DUI (especially if there is an injury, i.e. under charges of felony DUI, Vehicle Code § 23153 with great bodily injury alleged, Penal Code § 12022.7), lack of the required intent is difficult to argue, as driving is an intentional act. When one becomes voluntarily intoxicated by alcohol and/or drugs, and one drives a car weighing over 1,000 pounds, it is a willful act.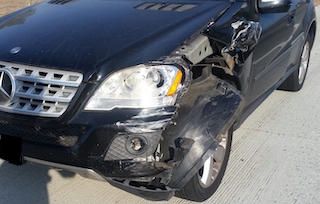 Photo of Damaged Car
If the driver then drives in a reckless manner, especially if the driver has a prior conviction for DUI or reckless driving, a jury and a judge would most likely consider this conduct willful. Assault, after all, is a general intent crime, not a specific intent crime. One does not need to purposefully intend to cause injury. One only need act with a general awareness of the dangers of such conduct and being drunk or intoxicated is never an excuse.
A second defense is self-defense, but for such a defense to be viable, the use of force must be reasonable under the conditions and not exceed the scope of what is necessary. Defendant must drive the car while reasonably believing he or she was under imminent danger of harm and the use of the car was necessary to avoid the danger.
A violation of Penal Code § 245(a)(1) can be characterized as a Strike under California's Three Strikes Law when great bodily injury is caused. When no bodily injury is sustained, the conviction is not a Strike. A violation of 245(a)(1) can also be resolved as a misdemeanor, depending upon the facts of the case and defendant's prior history.
When defendant is convicted of a felony violation of Penal Code § 245(a)(1), it is punishable by two, three or four years in state prison (up to five years if the victim is a police officer or firefighter) and / or a fine of up to $10,000, plus penalties and assessments (this can boost the total to over $40,000). Formal probation may also be possible, depending upon the facts of the case, defendant's history and the victim's input, but it would surely include anger management classes, restitution (if an injury was caused), Cal-Trans and/or community service and/or community labor, a stay-away order from the victim and other conditions as the prosecutor or judge see fit.

As a misdemeanor, the maximum punishment would be one year in county jail, although probation may also be possible with, most likely, anger management classes, restitution to the victim (if any injury caused), Cal-Trans and/or community labor and/or community service and a stay-away order from the victim.
A violation of Penal Code § 245(a)(1) may be considered an aggravated felony under federal law, subjecting defendant who is not a U.S. citizen to deportation.
For more information about assault, please click on the following articles: