What Is Argued in a Motion for Appointment of an Expert?
You or a loved one may be facing a criminal charge that involves gunshot residue testing, DNA, blood alcohol levels, the presence of a controlled substance, accounting records, an accident reconstructionist, an eyewitness of questionable credibility, a psychologist, or some other type of area of expertise that requires testimony from someone who has special education and experience in evaluating such types of evidence.

If so, an expert witness is most likely needed to help a party understand what such evidence really means, i.e. where it came from, how reliable the evidence is and what it may mean as evidence for a jury or prosecutor supporting a charge or defendant establishing an affirmative defense.
About This Article Briefly: A motion for appointment of an expert should argue the need for such an expert with specific facts about the case at issue and address the costs of the expert. It is best to recommend appointment of an expert from a court-approved list, if possible.
So what must one do to have such an expert involved? Who pays for such an expert?
The answer is one should file a motion for appointment of an expert witness to seek an order from the judge appointing a specific expert as a paid witness on a specific area of information that is beyond the common knowledge of a typical juror.
What is said in such a motion? Simply put, a motion of appointment of an expert argues first and foremost that a party needs an expert, most commonly for the preparation of a defense. People v. Hurley (1979) 95 Cal.App.3d 895, 899, 157 Cal.Rptr. 364; Torres v. Municipal Court (1975) 50 Cal.App.3d 778, 785, 123 Cal.Rptr. 553. It should be pointed out that either side may ask the judge to appoint an expert and the judge may even appoint an expert on its own motion under Evidence Code § 730. This is done in particularly complex cases.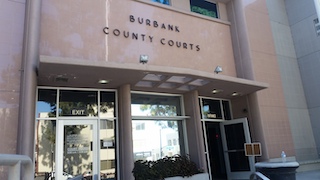 Burbank Courthouse
In arguing to the judge that an expert is needed, specific facts, rather than generalized need, should be discussed. One, for example, should not just argue that the case is complex. Instead, a party should argue that the facts of the case involve, for example, a true issue of the suspect's identity, so his or her DNA on an item of clothing may help resolve or refute eyewitness testimony.
The judge may then appoint an expert when it appears to the judge that expert evidence is or may be required. Evidence Code § 730. However, the judge has the right to limit compensation for the expert, which are a charge against the county. Evidence Code § 731(a).
The expert need not only come from an approved panel of experts. Doe v. Superior Court (1995) 39 Cal.App.4th 538, 546, 45 Cal.Rptr.2d 888. However, the judge will be more likely to approve such an expert from a panel of experts because the judge may deem such experts as capable of providing meaningful testimony. A first-time expert can be of very little use, especially if retained by a new attorney who does not properly direct the expert to study the important issues of a case.
The motion is grounded on the right to effective assistance of counsel under the Sixth Amendment. Such a right has been interpreted to include the right to public funds for expert witness services. Ake v. Oklahoma (1985) 470 U.S. 68, 76-85, 84 L.Ed. 2d 53, 61-68, 105 S. Ct. 1087; Corenvesky v. Superior Court (1984) 36 Cal.3d 307, 319, 204 Cal.Rptr.165; Evidence Code §§ 730-731.
The motion should be made as soon as the need for an expert is realized, but it can even be made during trial. People v. De La Plane (1979) 88 Cal.App.3d 223, 238, 151 Cal.Rptr. 843.
When a party does receive an order from a judge appointing an expert and approving fees to be paid by the county, this does not preclude the same party from retaining a further expert or experts that are paid for by the party. Evidence Code § 733.

When the case is a capital matter, special rules under Penal Code § 987.9 allow an indigent defendant to seek funds through the court for payment of experts, investigators and others for the preparation and presentation of a defense.
For more information about expert witness issues, please click on the following articles:
Contact us.