Medical Marijuana Cultivation Expert Disqualified at Trial
Christopher London was arrested, charged and tried by a jury for cultivating marijuana and possessing marijuana for sale (Health & Safety Code § 11358 and § 11359, respectively).
Why This Article Matters: The following summary of a reported decision exemplifies why it is critical to prepare one's expert witness(es). While this case took place before Prop 64 became the law, its lessons remain valid today: spend time with your experts prior to trial!

The case arose about 1:00 am. on June 11, 2010, when Fontana Police Officer Casey Mutter was dispatched to a house to follow up on a report of an elderly woman in distress.
Officer Mutter found an elderly woman screaming and yelling while standing in the home's driveway. She told the police that her son was holding her as a "prisoner" inside the house. The officer listened to the woman and determined she suffered from dementia and not being held against her will. He took her into custody under Welfare and Institutions Code § 5150.
Officer Mutter then noticed the odor of marijuana as he went into the house to perform a "welfare safety check" for the woman. Inside the house he found Mr. London asleep on a bed in a bedroom. As we awoke Mr. London, he noticed a small amount of marijuana in a baggie on the bed. He asked Mr. London where he got the marijuana.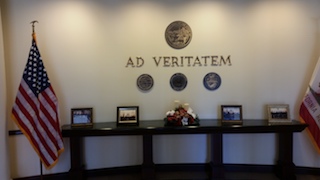 4th Appellate District Division 2 Riverside
Mr. London answered that he grew the marijuana himself and proceeded to give the officer a tour of sorts of his "grow house," which he insisted was entirely legal. The house was growing about 100 marijuana plants growing under seven metal lamp shades, with 1,000 watt light bulbs. He presented the officer with "paperwork" that he claimed showed he was lawfully cultivating the medical marijuana for a collective in Malibu called the Green Galleon. Officer Mutter then contacted the Fontana Police narcotics unit, which came to the house with two other officers.
Mr. London explained to the officers that he was promised $20,000 above his expenses if he returned 100 mature plants to the collective. He confidently gave his paperwork from the collective to the officers to inspect, as well as his own personal medical marijuana recommendation. He described the collective as being comprised of five members: himself, his mom, his roommate, his cousin and a man named Brian, whose last name he did not know.
At trial, Mr. London's defense was that his cultivation was legal under the Compassionate Use Act (Health and Safety Code § 11362.5, also known as Prop 215) and that his possession for sale was legal under the Medical Marijuana Program Act, or MMPA (Health and Safety Code § 11362.7,
et seq
.).
To establish this defense, he sought to introduce the testimony of William Britt as a cultivation expert. He had a high school diploma and "some training and experience in accounting, but no medical, legal or horticultural degrees. He was a medical marijuana patient himself. The prosecution moved to limit or exclude Britt's testimony about the indicia of lawfully operating a medical marijuana collective, their costs of cultivating marijuana and their methods of compensating their members for cultivating services performed for the collective.
At an Evidence Code § 402 hearing just with the judge and the attorneys (before he could testify in court to a jury), Britt testified that he had heard about the Green Galleon collective through advertisements, but he knew nothing about its methods of operation. He did not know who ran the collective, how many members it had, how the labor of running the collective was divided among its members, or where or how the collective obtained its marijuana. His understanding of defendant's relationship with the collective was based entirely on defendant's representations; he had not spoken to anyone or the collective to verify defendant's membership or relationship with the collective. Britt even agreed on the record that, due to his lack of knowledge about the Green Galleon's methods of operation, he could not offer an opinion whether it was operating as a lawful medical marijuana collective or not.
The trial court judge found it very troubling that Britt admitted he lacked information concerning the Green Galleon's methods of operation and his inability to opine (given an opinion) whether the collective was lawfully operating under California's medical marijuana laws.
The trial court refused to allow Britt to testify about the legality of the compensation paid to defendant for his cultivation of marijuana, as he did not establish that he had the necessary foundation to give such an opinion.
Defendant was subsequently found guilty of violating both 11358 and 11359. He was sentenced to three years of summary probation, contingent upon his serving sixty days in county jail. The Fourth Appellate District, in People v. Christopher London (2014 DJDAR 10041), affirmed the ruling, finding no error in the trial court judge's ruling.
The citation for the Fourth Appellate District Court ruling discussed above is People v. Christopher London (4th App. Dist., 2014) 228 Cal.App.4th 544.

For more information about possession of marijuanaa for sales issues, medical marijuana, Prop 215 and the MMPA, click on the following articles:
Contact us.