What Is an Application for Commutation of a Sentence?
An application for commutation of a sentence under Penal Code § 4800, et seq., is a clemency request to the governor (Gavin Newsom), similar to a pardon, that the governor reduce, end, or make the person eligible for parole for someone currently in prison or jail based on extraordinary circumstances in mitigation. A commutation can also change a death sentence to a life sentence. The governor can also order that the person be immediately eligible for parole when he otherwise would have had to wait many, many more years.
The Gist of this Article: An application for commutation of a sentence is a request to have a prisoner's sentence reduced or ended, or order that the prisoner be immediately eligible for a parole hearing. Reducing a sentence includes changing a death sentence to a life sentence.

Such an order does not reverse a finding of guilt, as does a pardon or an expungement. An order of clemency also does not restore civil rights as does a pardon or a certificate of rehabilitation for some civil rights.
Very few applications for commutation are granted. However, it is good to understand a few successful examples before getting one's hopes up unrealistically. In one case when commutation was granted, a female prisoner was sentenced for a murder as an aider and abettor with a minor role (meaning Senate Bill 1437 might apply), and while in prison serving the sentence starts a program to combat prisoner illiteracy, which operates for five years or more.
In another case, a person sentenced to a long sentence for a crime committed as a juvenile or young adult then earns several bachelors degrees while in custody and even a master's degree while teaching other inmates basic life skills to help them succeed once released. In another case, a female who was the victim of intimate partner battering, but who is convicted of murder, shows that her crime was a direct result of years of domestic violence.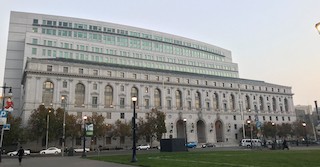 CA Supreme Court San Francisco
In other words, in the very few cases of commutation that are granted, the case generally fall into three categories: 1) Laws that were applied and resulted in long sentences disproportionate to the actual criminal conduct; 2) Very young inmates who have turned their lives around with maturity gained while in prison; and 3) Victims of intimate partner battery that then committed a crime as a result of such abuse.
To apply for commutation of a sentence, the process is really rather simple. The applicant completes a two-page Application for Executive Clemency and mails it to the Office of the Governor in Sacramento at Office of the Governor, State Capital, Attn: Legal Affairs / Clemency, Sacramento, CA 95814. This application may be supplemented with letters of recommendation or support and / or certificates of achievements that the prisoner wants considered.
The applicant must also submit an authorization for release of medical information to the Governor if one is suffering from a terminal illness or seeking release because of a severe or chronic condition that may be ameliorated by release.
The applicant, lastly, must serve the district attorney who prosecuted the case a Notice of Intent to Apply for Clemency.

In evaluating whether to grant a commutation of a sentence, the Governor is supposed to consider the impact on the community of the individual being returned in terms of public safety and the interests of justice. The Governor must also consider the age of the applicant now, as well as the date of the conviction, the circumstances of the crime and the sentence imposed. Furthermore, the Governor must consider the applicant's efforts at self-development (i.e. rehabilitative efforts) and conduct while incarcerated. Lastly, the Governor is supposed to consider the applicant's need for commutation and plans once released.
The Board of Parole Hearings reviews the commutation application and prepares a recommendation to the Governor. It will review the prisoner's conduct record while in custody, including rehabilitative efforts, criminal history, arrest record and court records.

Who is ineligible for a commuted sentence? The California Constitution Article V, section 8(a) specifies that any government official who was impeached or anyone convicted of two or more felonies is ineligible, except upon the recommendation of a majority of the justices of the California Supreme Court. See also Penal Code § 4802. If someone was convicted of multiple misdemeanors, the Governor can act upon the application without California Supreme Court action. The governor also cannot commute a sentence suffered under federal law, military law or under the laws of another state or another country.
For more information about recent new laws that may reduce one's sentence, please click on the following articles:
Contact us.