What is a Youth Offender Parole Hearing Under P.C. 3051
Proposition 57 dealing with early eligibility for parole and limiting direct filings of juvenile matters in adult court often leads to questions about youth offender parole hearings. Is there any new law that allows parole earlier for youth offenders consistent with the provisions for adults under Prop 57? With the new recognition of youth-related mitigating circumstances relevant to juveniles committing crimes, should not parole be considered earlier?
The answer is yes, but the new law's provisions are limited, as the following case summary of a Fifth Appellate District Court of Appeal ruling exemplifies
Why This Article Matters: Penal Code § 3051, as amended in 2016, permitted early parole hearings for those who committed crimes while under 23 and who had not been eligible for an earlier parole consideration hearing under other statutory provisions.

Kevin Howerton led a "troubled" life, as characterized by the court of appeal. At age seven, he began using marijuana and alcohol by age 14. At age 15, he met a drug dealer named Jeff Ross, who provided him with his daily supply of food, marijuana and alcohol in exchange for sex. Howerton eventually devised a plan to kill Ross, doing so in 1990 by striking him more than twenty times with a hammer such that "Mr. Ross's face and head were obliterated." At the time, Ross was nineteen.
Howerton was arrested for this and convicted of second-degree murder in 1991. The Kern County judge handling the case sentenced him to an indeterminate prison term of fifteen years to life.
While in prison, Howerton joined one or more white supremacist gangs, attacking other inmates and prison staff. In February 2000 and again in August 2002, while serving his second-degree murder sentence, Howerton was convicted of possession of a weapon by an inmate. These convictions resulted in what was effectively an additional 10-year consecutive sentence.
In July 2014, Howerton was granted parole on the second-degree murder sentence. Consistent with the law at that time, Howerton then began serving, and continues to serve, his ten-year consecutive sentence for the weapons convictions.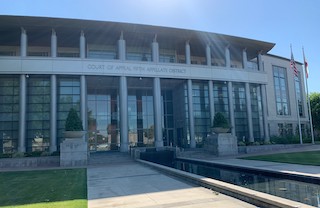 Court of Appeal Fifth Appellate District Fresno
Eighteen months later, on January 1, 2016, Penal Code § 3051 was amended so that Howerton potentially became eligible for a youth offender parole hearing on his second-degree murder conviction. This was a new law that provided for early parole hearings for those who committed crimes while under the age of 23.
The reader here may realize that Howerton was already on parole, but the new law seemed to address his custody on the weapons convictions.
Indeed, Penal Code § 3051, as interpreted by
In re Trejo
(2017) 10 Cal. App. 5th 972, held that youth offenders granted parole under 3051 must be immediately released, even if they later suffered adult convictions while incarcerated, subject to certain exceptions. See
In re Jensen
(2018) 24 Cal. App. 5th 266.
Howerton then filed a petition for writ of habeas corpus, arguing that he was unlawfully imprisoned under the new Penal Code § 3051.
The People opposed the petition, arguing that Howerton was not a youth offender under the statute because he had already been paroled under the law prior to section 3051's amendments. Moreover, he was no longer serving an indeterminate sentence under the statute.
The trial court in Kern County, however, granted the petition and the People appealed to the Fifth Circuit in Fresno.
The Fifth Circuit Appellate District reversed the trial court. It noted that the trial court judge really only did half the analysis. The trial court was correct that Howerton's second-degree murder conviction at age 23 or under indeed qualified him as a youth offender.
However, the second requirement was to determine whether Howerton has been "previously released or entitled to an earlier parole consideration hearing pursuant to other statutory provisions" such that he was not entitled to a youth offender parole hearing.
Here, the Fifth District found, Howerton had received multiple prior parole eligibility hearings and had previously been released on parole with respect to his "controlling offense" of second-degree murder.
When he was paroled, it was before 3051's amendments applied to cover him, so he was not entitled to a youth offender parole hearing.
This is a tough case for Mr. Howerton, but it shows how the new law is limited in its scope and moreover, how committing new crimes in prison can keep one in prison even after he or she was granted parole on the original offense.

The citation for the Fifth Appellate District Court ruling discussed above is People v. Kevin Howerton (5th App. Dist., 2019) 44 Cal. App. 5th 875, 257 Cal. Rptr. 3d 875.

For more information about Prop 57 and early parole eligibility issues, please click on the following articles: