Prop 57's Nonviolent Offender Early Parole Criteria
As the reader of this article may already know, Proposition 57 authorized the California Department of Corrections and Rehabilitation (CDCR) to develop regulations with the Board of Parole Hearings (BOP) to create an early parole consideration process for nonviolent offenders who have served the full-term of their primary offense in state prison.
It is important to note from the outset of this article that being eligible for early consideration for parole is no guarantee that one will be granted parole early – the BOP can deny early release.
The Point of This Article: A "nonviolent offender" eligible for early consideration of parole is easier to understand by knowing what are violent offenses under Penal Code § 667.5(c) (the list is below in this article) and anyone who, upon release from prison, will be required to register as a sex offender under Penal Code § 290.
Yet many are unclear as to who is a non-violent offender. Who is non-violent offender? It is easier to answer this question by explaining who is not eligible. Ineligible prisoners include condemned inmates (sentenced to death), those incarcerated for a term of life without the possibility of parole, those imprisoned for a term of life with the possibility of parole for a violent felony, those convicted of a sexual offense that requires or will require registration under Penal Code § 290 and anyone serving a term of incarceration for a violent felony.
A violent felony, defined by a list of offenses under Penal Code § 667.5(c), includes murder, attempted murder, voluntary manslaughter, kidnapping, carjacking, rape, sodomy (Penal Code § 286(c) or (d)), oral copulation (Penal Code § 288a), lewd acts on a child under age 14 (Penal Code § 288), any felony punishable by life in prison, threatening victims or witnesses (Penal Code § 136.1), extortion (Penal Code § 518), any felony in which defendant causes great bodily injury as defined under Penal Code § 12022.7, any robbery, first-degree burglary (meaning someone other than an accomplice is present in the home), arson, sexual penetration (Penal Code § 289(a), continuing sexual abuse of a child (Penal Code § 288.5) or having a weapon of mass destruction (Penal Code § 11418(b) or (c)).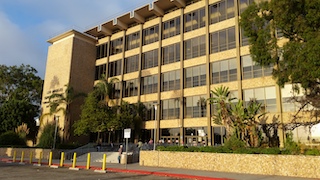 Torrance Courthouse
We believe "nonviolent" offenses will generally be felony drug offenses that result in prison sentences (not county jail under AB109), felony DUI, domestic violence (without great bodily injury) and a smattering of other offenses that do not result in county jail sentences.
Proposition 57, contrary to some rumors, does not change an inmate's originally violent conviction to a non-violent offense. We mention this issue because since Prop 57 was passed, we have received more than just a few phone calls posing this question.
Those inmates who complete the full term of their principal offense, before any sentencing enhancements are applied, are eligible, or any consecutive sentence is started, are eligible. It is generally understood that the principal offense is the offense for which the inmate is sentenced to the most years.
If an inmate is determined to be eligible, he or she will be screened for possible referral to the board no later than 35 days prior to serving the full term or his or her primary offense. The inmate will then be reviewed for whether he or she poses an unreasonable threat or violence or threat of significant criminal activity. This is called a public safety screening.
Victims and prosecutors can participate in this screening. Within five days of when the inmate is referred to the CDCR for possible early parole consideration, the board will notify victims registered with the CDCR's Office of Victim and Survivor Rights and Services and the prosecuting agency. They then can submit a written statement to the board in the next 30 days for consideration.
If he or she passes this screening, he or she will then be released for post-release community supervision. If he or she does not pass this screening, the inmate will be reviewed again in a year.
Eligible inmates who pass the public safety screening evaluation are then notified of the results.
For more information about Prop 57, please click on the following articles:
Contact us.