What Are Nonviolent Offenses under Proposition 57?
Why This Article Matters: As of March, 2021, "nonviolent offenses" in Prop 57 eligibility has yet to be firmly defined. In the absence of any CDCR guidance on this issue, most criminal defense attorneys consider "nonviolent offenses" as any crime except those that the Penal Code defines as violent offenses at Penal Code § 667.5(c), which are listed in this article below.

Proposition 57 was passed by a majority of California voters on November 8, 2016. Generally speaking, it does three things. It permits early parole consideration for certain people in state prison with nonviolent convictions.
Second, it gives the CDCR authority to award additional good conduct and program credits to prisoners in approved rehabilitative and educational programs.
Third, it eliminates the presumption that juveniles ages 14 to 17 who commit serious crimes will be prosecuted in adult court and instead gives judge (not DA's) the power to decide when juvenile cases will be transferred to adult court.
While much is unclear about exactly which adult prisoners will benefit from this new law or when its provisions will be carried out, the text of the law states that it only applies to those convicted of "nonviolent" felony offenses.
What felony offenses are considered "nonviolent?" After all, there is no California Penal Code section defining "nonviolent" offenses, as there is for "violent" offenses (Penal Code § 667.5(c)). Does this simply mean that if an offense is not listed under Penal Code § 667.5(c), it is "nonviolent" and thus eligible for Prop 57 relief?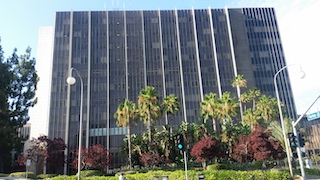 Santa Ana Courthouse
After all, there is some case law that suggests this is exactly what this does mean. See
People v. Arroyo
(2016) 62 Cal.4th 589, 593 ("When the language is ambiguous, we refer to other indicia of the voters' intent, particularly the analyses and arguments contained in the official ballot pamphlet."). The
Arroyo
case is significant insofar as the official ballot pamphlet contained an "Argument Against Proposition 57," which pointed out the apparent absurdity of defining "nonviolent offenses" by simplistically concluding it meant any crime not listed under Penal Code § 667.5(c). Thus,
Arroyo
seemingly makes what was seen as absurd the unambiguous "indicia of voters' intent."
The offenses listed under Penal Code § 667.5(c) include: 1) murder or voluntary manslaughter; 2) mayhem; 3) rape as defined in Penal Code § 261 or § 262; 4) sodomy; 5) oral copulation; 6) a lewd or lascivious act; 7) any felony punishable by death or life imprisonment; 8) any felony wherein defendant inflicts great bodily injury upon anyone other than an accomplice; 9) robbery; 10) arson; 11) sexual penetration; 12) attempted murder; 13) a violation of Penal Code §§ 18745, 18750 or 18755 (all dealing with bombs); 14) kidnapping; 15) assault with intent to commit a felony; 16) continuous sexual abuse of a child; 17) carjacking; 18) rape, spousal rape or sexual penetration in concert; 19) extortion; 20) threats to victims or witnesses, as defined under Penal Code § 136.1, which would be a felony under Penal Code § 186.22; 21) first degree burglary; 22) any violation of Penal Code 12022.53 (involves use of a firearm during the commission of a felony); or 23) any violation of Penal Code § 11418(b) or (c) (weapons of mass destruction).
Some people worry that the term "nonviolent felony offense" is too ambiguous to be enforceable or put into effect. More importantly, since Proposition 57 is actually an amendment to the California Constitution, can a statute (Penal Code § 667.5(c)) define a constitutional term? This would seem to violate the fundamental of separation of powers. Separately, what if the legislature amends § 667.5(c), effectively amending the constitution? Would this be allowed? Would this then mean that a term of the proposition is stricken and the remainder of the proposition remains in full force and effect, meaning all inmates would be eligible for parole?
These rather important questions will be addressed by the forthcoming CDCR regulations in clarifying not only what are "nonviolent offenses," but the procedures for defining what "parole consideration" means, what "full term" of the "primary offense" includes and excludes and what the length of parole would be under Prop 57. Such CDCR regulations are eagerly awaited, especially by those currently in prison who stand to benefit and the families of such prisoners.
For more information about Prop 57, please click on the following articles:
Contact us.