What is a People v. Mayberry Consent Jury Instruction?
The Gist of this Article: A People v. Mayberry consent jury instruction is one that asks the jury to find or not find, concerning the defendant's use of force against the victim, that defendant had a reasonable and good faith belief in the victim's consent and consequently, he did act against the victim's will or consent. This is an often misunderstood defense to forcible sex offenses against minors, as the trial court judge demonstrated, as did the prosecutor.

Rafael Duarte-Lara was convicted in San Francisco County Superior Court of sexual penetration with a foreign object of a minor 14 years or older accomplished by force, violence, duress, menace or fear of bodily injury (Penal Code § 289(a)(1)(c). The judge sentenced him to the lower term of six years in state prison.
The victim was a 16-year-old female relative of Duarte-Lara. She had known defendant her entire life and called him her uncle, although he really was her second cousin. She had lived with him and other family members in an apartment. She talked to Duarte-Lara every day and considered him her "father figure" because she did not get along with her own father. He gave her rides to school and money when she needed it.
On the evening of the incident, she took a shower and went to bed. Duarte-Lara came into the room for some keys and left. He came back into the room a few minutes later. The victim was almost falling asleep. She had no clothes on except for a sweatshirt. She asked him for money for school and he gave her $20 and then hugged her, she thought, good night.
Duarte-Lara then asked if she wanted a back massage. She told him no, but he insisted upon doing so and she agreed, turning over to lay on her stomach.
He then proceeded to massage her shoulders and moved his hands towards her lower back. He asked her if she "liked it." She said "Huh-uh," meaning "No," because he was moving his hands toward her lower back. He then moved his hands lower, brushing her buttocks and massaging her thighs. He again asked her if she liked it and she responded, "Huh uh."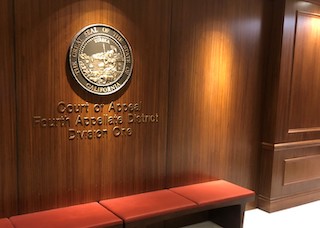 Fourth Appellate District Court of Appeal Div 1 San Diego
In trial, she testified, she then felt like she was going into shock and "frozen." He returned to her buttocks and inserted his finger into her vagina for five or ten seconds.

At this point, she turned over and told him "No," Duarte-Lara told her good night, tried to hug her but she did not hug him back and he left. The victim then called her mother, who called the police and Duarte-Lara was arrested, tried and convicted.
Mr. Duarte-Lara appealed the conviction, arguing that the trial court judge erred in refusing to instruct the jury on the defense of reasonable and good faith belief in the victim's consent under People v. Mayberry (1975) 15 Cal.3d 143, as stated in CALCRIM No. 1045.
The issue had arisen in the trial court, which denied the request because there was "no evidence that . . . shows that she actually consented, or that she did anything that would give a reasonable person the belief that he could do what he's charged of doing." The judge never considered her age, but instead cited to the fact that when asked if she liked it, she responded "Huh uh," which the judge said meant "No."

In response to the appeal, the prosecutor argued that a "Mayberry defense" really was not an issue or a defense because the victim was under 18 and she could not legally consent to sexual contact.

The appellate court then pointed out that in enacting both the crime of forcible sexual penetration under Penal Code § 289(a), requiring the act to be committed against the victim's will or consent, as well as the crime of sexual penetration under § 289(h), which makes no reference to a victim's ability or inability to consent, the Legislature acknowledged that "in some cases at least, a minor may be capable of giving legal consent to sexual relations." People v. Tobias (2001) 25 Cal.4th 327, 333; see People v. Hillhouse (2003) 109 Cal.App.4th 1612, 1620 ("the existence of such consent, of course, if the distinction between the crimes" of forcible and statutory rape).
Accordingly, when a defendant such as Duarte-Lara in this case is charged with forcible sexual penetration of a person 14 years or older under subdivision (a)(1)(c) of section 289, "the jury must set aside the statutory presumption that a person under 18 years of age is incapable of giving legal consent and must determine whether the elements of the more serious crime are met." People v. Giardino (2000) 82 Cal.App.4th 454, 467, fn. 6. Thus, in such a situation, a Mayberry defense would be applicable. People v. Anderson (1983) 144 Cal.App.3d 55, 60-62 (court held defendant entitled to avail himself of Mayberry instruction against two counts of forcible rape and two counts of forcible oral copulation on two girls 14 and 15 years of age); see also People v. King (2010) 183 Cal.App.4th 1281, 1317-1318 (allowing defendant to avail himself of Mayberry instruction against forcible sexual penetration); People v. Dillon (2009) 174 Cal.App.4th 1367, 1368 (accord).
However, in this case in particular, the First Appellate District affirmed the trial court that there was no substantial evidence to support the Mayberry defense, so no jury instruction explaining this defense was merited.

We bring this article to the reader's attention because there is some confusion among clients, prosecutors (as in this case) and defense counsel as to whether the consent defense in sex offenses involving minors is ever applicable. The answer is that it is, but only in cases involving forcible conduct.

The citation for the First Appellate District Court ruling discussed above is People v. Rafael Duarte-Lara (1st App. Dist., 2020) 49 Cal. App. 5th 332, 262 Cal. Rptr. 3d 774.

For more information about consent in sex cases, please click on the following articles: