What Is a Joint Suspended and Should I Accept This?
The term "joint suspended" is often discussed with keen interest by clients facing a prison sentence, often because of a prior criminal history or some familiarity with criminal law. What is a joint suspended?
The Gist of This Article: A joint suspended is a sentence wherein one is sentenced by the judge to prison for a set period of time, for example four years, but the judge does not impose the sentence. The sentence instead is suspended and the defendant is placed on probation, but with the admonition that if the defendant violates the terms of probation, the prison term will then be imposed and he or she will be immediately remanded to prison for the term specified.

The term "joint" is an old term used to refer to prison ("I got sentenced to the joint, man. I won't be out for many years."). Now prison is usually referred to only as prison.
The term "suspended" means "held up" or not imposed. We describe it to clients as a piano being dangled above one's head by a thin rope, like one may have seen in a television cartoon.
In context together, a "joint suspended" sentence means one is sentenced to prison for a specified period, but the sentenced is not actually imposed. Instead, defendant is placed on probation with the punishment for a probation violation already set: a specified time period in prison. In the piano metaphor, if one violates probation, the sentence is no longer suspended: it falls down on the person like a giant piano, crushing that person. A prison sentence can have that effect.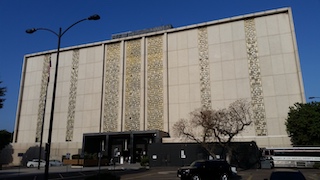 Norwalk Courthouse
Judges often do not permit such plea bargains, which can greatly disappoint a defendant. Often that defendant is in custody, unable to post bail, and is desperate to be released to keep a job, pay back money to someone who he owes it to, spend time with a loved one or just avoid being in custody (often because of harassment encountered inside the jail, perhaps from rival gang members).
In a way, a joint suspended sentence is a classic second chance. Defendant hopes that he can follow and complete the terms of probation and avoid committing any other crime during the probationary period, while the prosecutor is skeptical, but willing to allow defendant the opportunity to earn his freedom by just staying out of trouble and doing what he or she promised to as a term of probation.
For example, one may be sentenced to three years in state prison, suspended, and placed on five years of formal probation, conditioned upon staying away from a certain place and a certain person, performing 200 hours of community service, attending a 52 week batterers class and paying certain court fines. This means that if defendant violates probation during the five years of probation, the punishment for the probation violation is predetermined. It is already set: three years in state prison (plus whatever sentence is imposed on the conduct that violated probation, i.e. a DUI).

Should one accept a joint suspended sentence? The answer to this question varies by the individual, obviously, but in general, we advise proceeding with caution. It is tempting to immediately accept a joint suspended sentence, as it allows one to return home, stay with one's family and continue working (assuming the employer does not terminate the client for the conviction).
The downside to accepting such a plea bargain is that if one violates probation, the punishment is severe: state prison. In accepting such a plea bargain, however, defendant often vows to "be a good boy" or "I've changed. I learned my lesson. I have a new life now." We wish the client well and hope that their past is not prologue.
We find anecdotally that a joint suspension is unwise if one is addicted to a controlled substance, if one is in an unstable relationship where domestic violence is common, if one is an alcoholic and has multiple DUI's, or one is an active gang member. Such lifestyles or situations tend to cause probation violations and then, prison time.
For more information about a joint suspended sentence, please click on the following articles:
Trial Court That Denied Expungement Because Petitioner Given a Five Year Joint Suspended Sentence Is Reversed on Appeal
Contact us.