Probation Violation with a 'Joint Suspended' Means Prison?
In February, 2012, Judge Daviann Mitchell sentenced Bruce Leonard Bolian to five years in state prison, but suspended imposition of the sentence (a "joint suspended" sentence).
The underlying charge was possession of a deadly weapon (a billy club), then a violation of Penal Code 12020(a)(1). The complaint alleged that Bolian had suffered three prior convictions within the meaning of the "Three Strikes Law" (Penal Code § 667(b) - (i), 1170.12(a) - (d)). He had also served prison terms for eight prior convictions within the meaning of Penal Code § 667.5(b).
Why This Article Matters: If a judge determines that defendant, serving on probation with a joint suspended sentence, has violated probation, the judge may remand defendant to state prison or reinstate him on probation with the same terms or modified terms.

In his plea, he admitted two prior strikes. He was then placed on five years of formal probation. His sentence included an order that he: (1) perform 60 days of Caltrans community service; (2) not own, possess or use any controlled substances expert with a valid prescription; and (3) submit to periodic controlled substance testing when requested.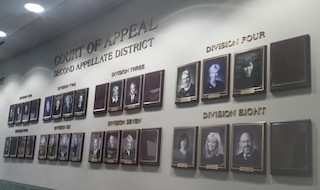 Court of Appeal Second Appellate District Los Angeles
Approximately ten months later, the probation department reported to the judge that Bolian had tested positive for marijuana. He tested positive for marijuana three more times in January, March and May, 2013. The probation department recommended that rather than remand him on the joint suspended sentence, order him to complete an out-patient drug counseling program.
The judge than set a probation violation hearing for August 2, 2013. Mr. Bolian did not appear. The judge then set a further probation violation hearing.
At the later hearing, the probation officer testified that Bolian had tested positive for marijuana four times and had not performed any of the 60 days of Caltrans community service in the eighteen months of probation. She again recommended an out-patient drug counseling program.
Bolian testified that he could not perform any Caltrans because of a back injury and because he was always heavily medicated. Bolian also submitted a medical recommendation as to his use of marijuana. He also explained that he missed court earlier because of his back pain.
The judge ruled that Bolian had violated his probation, revoked probation and ordered execution of the previously suspended five year state prison sentence. In rejecting the probation officer's recommendation for an outpatient drug treatment program, the judge stated that modifying probation to impose this would be "illegal and improper."
Bolian appealed imposition of the prison sentence to the Second Appellate District. Bolian argued that the trial court misunderstood its legal authority to reinstate and/or modify his probation.
The Second Appellate District agreed with Bolian, reversing the ruling and remanding the case for the court to exercise its discretion with knowledge that it did have the power to modify probation if it found doing so was reasonable.
The Second Appellate District began its opinion in
People v. Bruce Leonard Bolian
(2014 DJDAR 15959) by noting that a probation violation does not automatically call for revocation of probation and imprisonment.
People v. Hawthorne
(1991) 226 Cal. App. 3d 789, 795. A court may modify, revoke or terminate defendant's probation upon finding that defendant violated probation. Penal Code § 1203.2(a), (b)(1). The power to modify probation includes the power to reinstate probation.
People v. Medina
(2001) 89 Cal. App. 4th 318, 321. In other words, the court does have sentencing options.
If a judge decides to reinstate probation, it may order additional jail time as a sanction. If the court imposed a prison sentence and suspended execution of it ("joint suspended"), and the court revokes probation and terminates it, the court must order the imposed sentence into effect.
People v. Howard
(1997) 16 Cal.4th 1081, 1088, 1095.
The court ordinarily has no authority to impose a lesser sentence in such a case.
Howard
,
supra
, p. 1095. However, if the judge decides to reinstate probation, the decision must be based upon "informed discretion."
People v. Brown
(2007) 147 Cal. App. 4th 1213, 1228, quoting
People v. Belmontes
(1983) 34 Cal. 3d 335, 348 fn. 8.
In looking at the record, the Second Appellate District found that the lower court judge did not appear to know it had discretion to modify probation. Therefore, the prison sentence was vacated and the case was remanded for the trial judge to re-evaluate the facts.

The citation for the Second Appellate District Court ruling discussed above is People v. Bruce Leonard Bolian (2d App. Dist., 2014) 231 Cal.App.4th 1415.

For more information about the issues in this article, click on the following articles:
Contact us.