What Is a Franklin Hearing? What Is It For?
In 2016, the California Supreme Court issued its ruling in People v. Tyris Lamar Franklin (2016) 63 Cal. 4th 261. In that case, the Supreme Court held that a person sentenced to a lengthy prison term for a crime committed while 25 or under must have had the opportunity to present, during trial, the kinds of evidence that would be relevant at a future youth offender parole hearing, although such a hearing may not take place for 15, 20 or 25 years.
In a Nutshell: A Franklin Hearing is often misunderstood as an opportunity to be resentenced (and possibly released) at a hearing wherein the mitigating factors of youth are considered in deciding if a sentence is too long. The truth is that such a hearing often is not even a hearing in court (the judge can rule on the papers in chambers) and defendant usually is not brought to court at all. The purpose of the "hearing" is to supplement defendant's file for his next or first parole hearing to given consideration to his or her youth and maturation since being in prison.

A lengthy prison sentence is commonly agreed upon as a sentence that is so long that it is essentially life without the possibility of parole (LWOP), or de-facto LWOP. Sentences that have been found to be LWOP include a sentence of 110 years in state prison (People v. Caballero (2012) 55 Cal.4th 262. In another case, sentences of 50 years to life and 58 years to life in state prison were found to be de-facto LWOP sentences (People v. Contreras (2018) California Supreme Court docket number S224564).
After all, when a person is sentenced to a determinate sentence of 50 years, he or she will not have his or her first parole hearing until first serving fifteen years (under Assembly Bill 1308 and Senate Bills 260 and 261), but this may not happen at fifteen years depending upon the crime or the person's criminal history.
When the person is sentenced to an indeterminate sentence, such as 50 years to life, the youthful offender is not eligible for his or her first parole hearing until either his twentieth or twenty-fifth years in custody. Sometimes, depending upon the crime and the person's criminal history, he or she may not even have such a parole hearing then.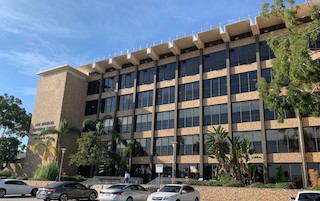 Torrance Courthouse
Such lengthy sentences may run afoul of the rulings in Miller v Alabama (2012) 567 U.S. 460 and Graham v. Florida (2010) 560 U.S. 48, which held that a trial court violates the Eighth Amendment by imposing cruel and unusual punishment if it sentences a youthful offender to a lengthy prison term without first evaluating the youthful offender's maturity, capacity to continue to grow to understand what he did was wrong, upbringing, juvenile record and the facts of the case.

Such mitigating factors must be considered before imposing such a lengthy sentence. The general reasoning behind these rulings is a recognition that youthful offenders, particularly males under the age of 26, have less than fully-developed mental capacities for maturity and sound decision making.
A "Franklin Hearing" is a hearing wherein an attorney will ask to recall the case to present such youthful mitigating factors for a future parole hearing if they were never introduced at sentencing in the original case. To apply for such a hearing, one needs to file a Franklin Hearing motion in the trial court.
If such a hearing is granted, it is critical that one prepare thoroughly. To prepare for such a hearing, which is to preserve the record for later, it is wise to have the judge appoint an expert in forensic psychology to evaluate the defendant, an investigator to interview defendant's family to properly present defendant's upbringing and parenting and possibly hire a social worker to prepare a mitigation report. Such factors are supposed to be given "special consideration" or "great weight" at a future parole hearing.
The Franklin court, in providing for such a hearing, stated: "If the trial court determines that [defendant] did not have sufficient opportunity, then the court may receive submissions and, if appropriate, testimony pursuant to procedures set forth in section 1204 and rule 4.437 of the California Rules of Court, and subject to the rules of evidence. [Defendant] may place on the record any documents, evaluations, or testimony (subject to cross-examination) that may be relevant at his eventual youth offender parole hearing, and the prosecution likewise may put on the record any evidence that demonstrates the juvenile offender's culpability or cognitive maturity, or otherwise bears on the influence of youth-related factors."
Contact us.