Does Life without Parole Possibility Violate 8th Amendment?
Brief Synopsis: A sentence of life without the possibility of parole for a man who was 35 when he committed two forcible sex offenses is not unconstitutional as a violation of the Eighth Amendment prohibition against cruel and unusual punishment because it was proportional to the crime committed.

In San Bernardino County in 2012, a jury convicted Leonel Lopez Reyes, then age 35, of forcible oral copulation of a fourteen year old girl (Penal Code § 288a(c)(2)), forcible rape (Penal Code § 261(a)(2)), lewd acts upon a child under the age of fourteen (Penal Code § 288(a)) and first degree burglary (Penal Code § 459).
Judge Eric Nakada sentenced Reyes to eight years, plus a consecutive term of life without the possibility of parole, and fifteen years to life, stayed under Penal Code § 654.
Reyes appealed his conviction and his sentence on multiple grounds. This article, however, will only consider his argument that his sentence of life without the possibility of parole for committing two forcible sex offenses violates the prohibition in the federal and California constitutions against cruel and unusual punishment.
Before addressing Reyes' legal arguments, it is helpful for the reader to know the basic facts of the case. From late 2008 until about the middle of 2010, a teenager named Daniela lived with her mother and sister in a house they shared with Reyes. In June, 2011, perhaps one year later, Reyes came to Daniela's house to pay Daniela's mother $100, which was money he owed her.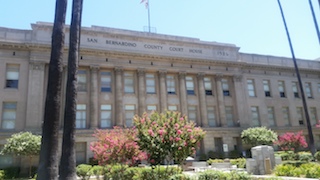 Old San Bernardino Courthouse
Daniela did not want to open the door because of an incident that had happened earlier when Reyes had put his hand inside her shorts and underwear.
Nevertheless, she opened the door to accept the money for her mom. She opened the outside security door, took the money and started to close the door. Reyes, however, pulled open the door all the way and walked inside. He then closed all the other doors in the room they were in. Daniela tried to back away, but Reyes grabbed her, picked her up and put his face between her breasts.
He then pushed her onto a couch, where he removed her shorts and underwear, orally copulated her while holding her down and then had sexual intercourse with her. He then gave her $20 and left, telling her not to tell anyone what happened.
A sexual assault examination showed evidence of Reyes' sperm consistent with his DNA inside Daniela's vagina.
At trial, Reyes testified strangely that while he knew it was against the law in the United States to have sex with someone 14 years old, however "it was not a problem in Mexico and he did it because he was sexually attracted to her."
In challenging his sentence, Reyes argued that the judge failed to use his discretion to impose a lesser sentence under Penal Code § 667.61(l), because a judge has discretion to strike a sentencing enhancement under Penal Code § 1385.
People v. Thomas
(1992) 4 Cal. 4th 206, 210.
Penal Code § 667.61(1) is a special circumstance that the oral copulation and rape were committed "during the commission of burglary" and that the victim was a child 14 years of age or older and under 18 years of age.
Reyes, argued that his sentence of life in prison without the possibility of parole was cruel and unusual punishment, as barred by the Eight Amendment.
In
People v. Leonel Lopez Reyes
(2016 DJDAR 3103), the Fourth Appellate District started its analysis, noting that Penal Code § 667.61's multiple sentencing provisions concerning sex offenses committed on juvenile victims in the course of an underlying felony such as burglary all include "shall" as the operative term for how the judge must sentence a defendant. There is no discretion in sentencing, in other words, by statute.
The appellate court next turned to the issue of whether Penal Code § 1385 allowed the court to strike a sentencing enhancement. While acknowledging that a trial court has power to strike or dismiss three strike allegations under alternative sentencing (
People v. Superior Court
(
Romero
) (1996) 13 Cal. 4th 494, 504, 518, 529-530), the legislature can eliminate a court's power to strike or dismiss sentencing allegations. In this regard, Penal Code § 667.61 clearly states, "notwithstanding Section 1385 or any other provision of law... " Thus, the Legislature has indicated its intent to bar 1385 from applying to change sentencing under 667.61.
At this point, the analysis should stop. However, the appellate court proceeded to address Reye's argument that the Eight Amendment bars his sentence as cruel and unusual punishment. In considering this, the appellate court noted that "punishment for crime should be graduated and proportioned to the offense." In re Coley (2012). 55 Cal. 4th 524, 538; see Graham v. Florida (2011) 560 U.S. 48, 59. However, the Eight Amendment does not require strict proportionality between the crime and the sentence," but rather "forbids only extreme sentences that are grossly disproportioned to the crime." Coley, at 542. Here, the court reviewed the facts and found the sentence was not grossly disproportionate to the offenses committed.

The citation for the Fourth Appellate District Court ruling discussed above is People v. Leonel Lopez Reyes (4th App. Dist., 2016) 246 Cal.App.4th 62.

For more information about sentencing issues, please click on the following articles:
Contact us.