What Happens After One Is Sentenced to Prison?
If one is sentenced to prison, for example after agreeing to a plea bargain which involves prison, there are often a great deal of questions about what can be expected over the next few weeks or months.
At the outset, the individual will need to remove any firearms and ammunition, including ammunition loading devices, from one's home under Proposition 63. This means that the defendant should take the firearms, ammunition and loading devices to a licensed gun dealer to transfer over to another individual or to sell. A person convicted of any felony in California now loses his rights to own, possess or purchase a firearm for life, so this is a first and foremost item to address.
In a Nutshell: When one is sentenced to prison, there is a general sequence of events that take place from the moment the sentence is imposed. It is wise to familiarize oneself with what will happen so that the process is as comfortable as possible.

If the individual is remanded upon entering into the plea or upon being convicted because the judge will not allow the defendant to "get his affairs in order," this task of removing firearms falls upon a loved one or anyone else who has access to such weapons.
Upon transferring such weapons and removing them from the home, a report from a licensed gun dealer ought to be given to the probation department to assist them in preparing a Prop 63 report that is given to the sentencing judge. A defendant or a representative of defendant usually has two to three weeks to do this.
Second, the individual, once in custody, is transferred to an inmate reception center. This does not take place if the prison sentence is for a non-violent or non-serious felony that Assembly Bill 109 applies to, in which case the prison sentence will be served in local county jail (there are exceptions to this based on one's criminal history). If one is to serve a prison sentence in state prison, that person is first transferred to an inmate reception prison administered by the California Department of Corrections and Rehabilitation (CDCR). For most Los Angeles County folks heading off to state prison, this means the individual will be moved to Delano.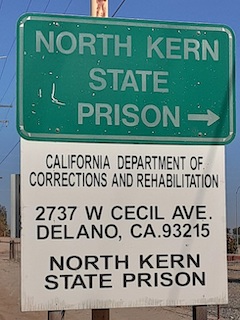 North Kern State Prison
Once at Delano, which is about 30 miles north of Bakersfield, the individual will be briefed on how prison life proceeds, i.e. how one gets his or her laundry done, how one can get a haircut, what educational resources exist (i.e. under Proposition 57 programs for earning extra custody credits), if the individual is eligible for fire camp and, most importantly, one's classification score is computed.
The CDCR's computation of one's classification score determines which prison the defendant will be housed at next, based on one's security risk. There classification score is measured in points. The lower the points, the lower the security level. There are four security levels, I, II, III and IV.
If one scores zero to 18 points, the individual will be assigned a Level 1 security level. Nineteen to 35 points is assigned Level II. Thirty-six to 59 points is assigned Level III and sixty points or higher is assigned Level IV. The higher one's security level, the more secure the prison will be.
Points are accumulated and added up based on a prisoner's background (age, criminal history, education level, employment history, etc.), sentence length and any history of prior misbehavior in jail or prison. The CDCR also takes into account the individual's mental health or disability needs in deciding where to house the individual.
There are certain mandatory minimum scores that apply to certain individuals. One who is sentenced to death (a "condemned prisoner") is assigned a score of 60. A person sentenced to life without the possibility of parole (LWOP) is assigned a minimum score of 36. If a prisoner has a history of escape, the prisoner receives a minimum score of at least 19. If one is a sex crimes defendant (with an R suffix given to their identification), that prisoner also receives a minimum of 19 points. Similarly, a person with a violence exclusion or sentenced to another life sentence (not LWOP) is assessed a minimum of nineteen points.

The classification score also leads to a certain custody level. The custody level determines how much out-of-cell time that individual receives and how many opportunities the person has for programs such as those that many earn the person custody credits and lead to an earlier release date.
There are seven custody levels. They are maximum (for segregated program housing), Close A, Close B, Medium A, Medium B, Minimum A and Minimum B. Close custody used to be reserved for "notoriety cases" or "public interest" cases, but this is no longer so. The custody level is now determined based on six factors: lengthy sentence, history of escape, detainer, disciplinary issues, inactive prison gang member or associate and security concern.

For example, someone who has a LWOP sentence will first be assigned Close Custody A for three years and then Close Custody B for another seven years. A prisoner who used force to escape, for example, will be placed in Close Custody A for eight years.
If a prisoner believes his or her classification score is incorrect, the prisoner can fill out an administrative appeal (CDCR Form 602) to request a review of the score.
For more information about serving time in prison, please click on the following articles:
Contact us.