What Does the New Social Host Law in Palos Verdes Say?
Underage drinking and underage use of marijuana are without any doubt a danger in many ways. The underage person feels uninhibited and can act in ways that endanger others, whether through driving a motor vehicle in a reckless manner (possibly crashing and hurting others), fighting with others, committing vandalism, engaging in sex acts or just disturbing the peace by playing music loudly or arguing in the street outside. Other times, the youngster simply drinks too much and falls asleep, perhaps while driving home or walking back to his or her car, injuring himself or herself.

In a Nutshell: The new social host law in Palos Verdes fines parents $2,500 for the first time who allow a party of underage persons to take place in their home or on their property, which underage consumption of alcohol and/or marijuana use takes place. A second violation increases the fine to $5,000 and a third violation to $7,500.

While drinking alcohol and/or smoking marijuana by minors may be seen as fun or a way for youths to socialize, it is also illegal. Proposition 64 legalized the adult use of marijuana only. The drinking age in almost all states in the United States remains at 21 years old.
When an adult facilitates this, either intentionally by hosting a party and permitting such drinking or smoking to take place, or recklessly by leaving for a short vacation while their children with a history of drinking alcohol or smoking marijuana remain at home, unsupervised, there is an issue of an adult hosting such behavior.

The adult may face civil liability for negligent supervision or negligent entrustment, especially if a drunk driving crash takes place after an underage person consumes excess at the home or property of an adult who was aware that such drinking was taking place.
The adult may also face criminal liability for allowing such conduct to take place. The adult could face a criminal case for furnishing alcohol to a minor, which is a violation of Business & Professions Code § 25658(a), which is a misdemeanor, but with very large fines. The adult also could face liability for contributing to the delinquency of a minor (Penal Code § 272). If a sex offense takes place, the judge has discretion to require the adult to register for life as a sex offender under Penal Code § 290. When an adult furnishes marijuana to a minor, that adult faces liability under Health and Safety Code § 11361.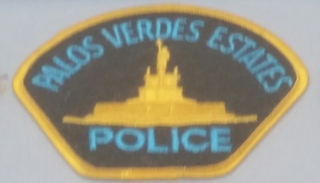 PVE Police Patch
Sometimes, the adult's conduct is not so direct or easily seen. Therefore, beginning February 26, 2019, the Los Angeles County Board of Supervisors approved a law meant to punish adults who act as social hosts of underage drinking. The law follows a pilot program that affected approximately two thousand households in the unincorporated areas of the Palos Verdes Peninsula, making such a pilot program a permanent law moving forward.

The law is meant to mimic similar laws already in place in Palos Verdes Estates, Rancho Palos Verdes Rolling Hills and Rolling Hills Estates. In Rancho Palos Verdes, for example, there is a fine of $2,500 for a first-time social host of a party involving underage drinking or marijuana use. Further violations raise the fine $2,500 with each subsequent violation. Similar laws exist in Hermosa Beach, Manhattan Beach and El Segundo.
Supervisor Janice Hahn introduced the new law for the unincorporated areas of the Peninsula, which makes it a misdemeanor for adults to host parties where minors consume alcohol or marijuana. A first offense is punishable by only a fine, but a fine of up to $1,000. A second violation within twelve months of the first violation involves a higher fine and requires the adults to reimburse the county or city for any cost of any emergency response by police or other departments.
If the property owner truly is unaware that a party took place, then that person is not criminally liable. Parents may also legally allow their own children to drink alcohol within their own home as long as such consumption does not fall under laws such as Penal Code § 272(a), contributing to the delinquency of a minor.

It merits mention that Redondo Beach has not passed any such law yet, as the proposed law sought to allow sentencing of up to six months in county jail for such a social host. Mayor Bill Brand vetoed such a law.
We at Greg Hill & Associates applaud Janice Hahn's work on this new law, as well as the local cities in passing such laws. Too many young lives are ruined by alcohol and marijuana use. We see the effects every day in our practice. Teenagers are still developing their maturity and judgment, so using alcohol and marijuana (or any other drug that is illegal) compromises this development, leading to often lifelong issues of poor judgment.
For more information about issues raised in this article, please click on the following articles:
Contact us.