What Conditions Allow Deadly Force in Self Defense?
About This Article Briefly: Deadly force in self-defense may be used against another person only when defendant is in fear of death or serious bodily harm to himself or a close family member, but not in defense of personal property such as a fence that neighbors were taking down.

In September 2017, in Temecula, Yi Chih Chen and his next-door neighbors got into a dispute over replacement of a fence separating the two homes. Chen did not want the fence replaced, but the neighbors did. The neighbors then hired a fencing contractor and when Chen saw that the neighbors were about to tear down and replace the fence, he called the Riverside County Sheriff's Department.
Deputy Sheriff Christina Weber arrived on the scene and spoke to Chen, as well as the neighbors and the contractors. She advised Chen that this was a civil matter and that she really could not tell the neighbors to halt. She then left.
As the contractors began dismantling the fence separating the two houses, with the neighbors standing nearby, Chen went upstairs to a bedroom in his house overlooking the fence and pulled out his shotgun. He then walked to the window and got his loaded shotgun, which he then pointed at the two neighbors and the two fencing company employees.
The next-door neighbors had a suspicion that Chen might do something like this and had a video camera mounted that recorded Chen throughout this chain of events.

When the neighbors and employees observed this, they called 911 and Deputy Weber, who had only driven perhaps a half-mile away, returned to the scene. Chen was arrested and later charged in San Bernardino Superior Court with four counts of assault with a deadly weapon (Penal Code § 245(a)(2)), a felony, and brandishing a firearm (Penal Code § 417), a misdemeanor.

Chen went to trial on the case. In closing argument, his attorney argued that Chen's use of the firearm to defend his property was lawful.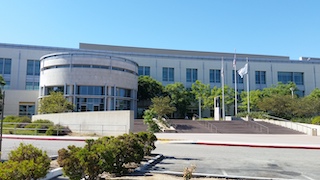 Murietta Courthouse
This argument followed Chen's unsuccessful attempt to introduce evidence of his neighbor's failure to comply with either the homeowner's association rules regarding fence replacement and the Good Neighbor Fence Act of 2013 (California Civil Code § 841). Chen argued, in attempting to have the jury know about these two things, that he acted reasonably in defending the imminent destruction of his property. The judge did not permit this evidence to be presented to the jury.
The Murrieta Superior Court jury hearing the case found Chen not guilty of the assault with a deadly weapon charges, but did find him guilty of brandishing a weapon. Judge James Hawkins sentenced Chen to three years of summary probation and allowed Chen to serve the mandatory 90 days of jail time for brandishing via an ankle monitor at home.

Chen then appealed the conviction to the Fourth Appellate District in Riverside, which affirmed the trial court's exclusion of the homeowner association rules and the Good Neighbor Fence Act of 2013.

It explained that whether or not the neighbors complied with the homeowner association rules or the Good Neighbor Fence Act did not authorize Chen to brandish a shotgun to protect against removal of a fence.

The appellate court explained that under civil law principles, the use of deadly force is reasonable only when an intrusion on one's property threatens death or serious bodily harm to the occupiers or users of such land. Likewise, under criminal law, deadly force cannot be used to defend property (which here, Chen only owned partially anyways) because human life is more important to society than the protection of property, which here was rather trivial anyways.

After all, this case did not involve a home invasion, or any other crime potentially involving death or great bodily harm.

We present this summary because we find this misunderstanding about "defending one's property" is quite pervasive, perhaps because the law requires a warrant to search one's property. However, threatening deadly force is not allowed when deadly force or great bodily harm is not possible, as it was not to Mr. Chen in this case.
We lastly want to emphasize that brandishing a weapon, even as a misdemeanor, is a serious offense that, if violated, carries with it a mandatory minimum jail time of 30 days.

The citation for the Fourth Appellate District Court ruling discussed above is People v. Yi Chih Chen (4th App. Dist., 2020) 50 Cal. App. 5th 952, 264 Cal. Rptr. 3d 570.

For more information about self defense, please click on the following articles: