Self-Defense and 18 U.S.C. § 922(g) or Penal Code § 29800
If one is a convicted felon, someone convicted of misdemeanor domestic violence (Penal Code § 273.5 or 243(e)(1)), you have been admitted under Welfare & Institutions Code just once in the last five years (or more than once within five years), you were found not guilty by reason of insanity, you are subject to a conservatorship due to chronic alcoholism, you were found mentally incompetent to stand trial, you are considered an "unlawful user" of any controlled substance under federal law or state law, or otherwise have had your firearm rights taken away, it can leave some people feeling vulnerable.

The Reader's Digest Version: If one is subject to a lifetime ban on owning or possessing a firearm or ammunition, perhaps after a felony conviction or a conviction for misdemeanor domestic violence, there are narrow exceptions to this ban when the use is related to self-defense. The exceptions are explained in the following article.

Does such a court order banning the right to possess, own or purchase a firearm mean he or she also cannot use a firearm in self-defense or defense of others?
The answer is no, but such a person's right to self-defense or defense of others by using a firearm is extremely limited. This narrow right has been acknowledged by a long line of federal cases. See United States v. Mooney (4th Cir., 2007) 497 F.3d 397, 406; see also United States v. Leahy (1st Cir., 2007) 437 F.3d 401, 409 (citing Dixon v. United States (2006) 548 U.S. 1, 4 n. 2); United States v. Deleveaux (11th Cir., 2000) 205 F.3d 1292, 1297; United States v. Gomez (9th Cir., 1996) 92 F.3d 770, 774-75; United States v. Paolello (3d Cir., 1991) 951 F.2d 537, 540-41 (modified by Government of Virgin Islands v. Lewis (3d Cir., 2010) 54 V.I. 882, 620 F.3d 359; United States v. Vigil (10th Cir., 1984) 743 F.2d 751, 756; United States v. Panter (5th Cir., 1982) 688 F.2d 268, 271; United States v. Agard (2nd Cir., 1979) 605 F.2d 665, 667.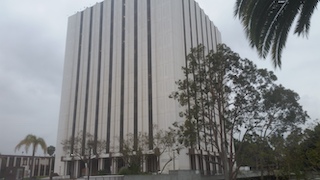 Compton Courthouse
These cases hold that someone barred from possessing a firearm may possess a firearm without violating 18 U.S.C. § 922(g) if that person:
Is under an unlawful and present threat of death or serious bodily injury; and
Did not recklessly place himself or herself in a situation where that person would be forced to engage in criminal conduct; and
Had no reasonable legal alternative to possessing the firearm or avoiding the threatened harm; and
Can show that there was a direct causal relationship between the criminal action and the avoidance of the threatened harm.

California law on this issue is set forth in CALCRIM 2514 and People v. King (1978) 22 Cal.3d 12, 16-19. It is more narrow than federal law.
CALCRIM 2514 states that a person subject to a firearm prohibition under California law may possess a firearm in self-defense of defense of others without violating Penal Code § 29800 when that person:
"Reasonably believes" he or she or someone else was "in imminent danger of suffering great bodily injury;" and

Reasonably believes that the immediate use of force was necessary to defend against that danger; and
A firearm must have become available to that person without planning or preparation on that person's part; and
The firearm is only possessed temporarily, meaning no longer than what was necessary or reasonably appeared to be necessary for self-defense; and

There was no other means of avoiding the danger or injury; and
Using the firearm was reasonable under the circumstances.

The facts of King are good to know. Mr. King was prohibited from owning, possessing, or purchasing a firearm or ammunition. He was at a birthday when a fight broke out between an uninvited guest and another person at the party. The fight went on for quite some time and efforts to pull the two men apart were unsuccessful. Mr. King then tried to subdue the men. As he was stepping outside to talk to the men, a woman handed Mr. King a gun. Mr. King then stepped outside and fired several shots in the air to disperse the men. This worked momentarily, but then they ran toward the house where the birthday party was. To protect himself and the people in the house (this was an emergency situation), Mr. King fired at the two men, but missed and hit a bystander.

Police then came and he was arrested, later being charged with being a felon in possession of a firearm and two counts of assault with a deadly weapon.

Lastly, it must be acknowledged and credit given to Chuck Michel and his wonderfully informative and helpful book California Gun Laws – A Guide to State and Federal Firearm Regulations (7th Ed., 2020) for the information in this article.

For more information about illegal possession of a firearm, please click on the following articles: