What Are the Warnings a Judge Says When Taking a Plea?
Quite often, clients tell us after court that they were so nervous or intimidated by everything happening in court that they only understand about ten percent of what was happening.
The Reader's Digest Version: When a plea is taken, the judge cannot accept it unless it is entered knowingly, intelligently and voluntarily. Accordingly, the judge must clarify the consequences of a plea (i.e., immigration, if one suffers a later similar conviction), which certainly may sound like warnings.

This article is intended to be read before court when a client will be entering a plea to agree to a plea bargain. In our experience, when the client agrees to a plea bargain, the focus immediately shifts to how he or she will take the classes, serve the thirty or sixty days in county jail (or whatever length of time is negotiated), etc., little or no time is set aside to understanding what giving up one's right to trial means.
Most importantly, a defendant who pleads no contest waives any evidentiary challenge to the truth of the underling offense in the same way that a defendant who simply pleads guilty.
People v. Padfield
(1982) 136 Cal.App.3d 218, 227.
It is often discussed by a judge that a plea of no contest to a misdemeanor offense cannot be used as an admission in a civil action. Penal Code § 1016(3). However, a no contest plea to a felony offense is admissible as an admission in a civil case arising out of the act on which the criminal prosecution was built. However, a guilty plea to either a felony or a misdemeanor may be used as an admission in a civil case.
Teitelbaum Furs, Inc. v. Dominion Ins. Co.
(1962) 58 Cal.2d 601.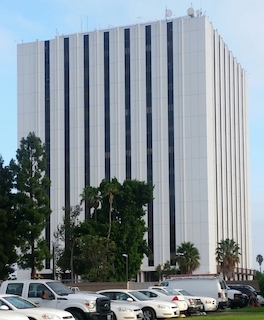 Compton Courthouse
The judge will ensure that a defendant in a misdemeanor and felony case is informed of and explicitly waives each of the four following constitutional rights before entering a valid no contest or guilty plea (
People v. Sumstine
(1984) 36 Cal.3d 909, 921):
Right to counsel, if unrepresented by counsel. A defendant can plead guilty or no contest without an attorney in all cases but capital cases and cases in which defendant may be sentenced to life imprisonment without the possibility of parole (LWOP). Penal Code § 987. A defendant "should be made aware of the dangers and disadvantages of self-representation, so that the record will establish that 'he knows what he is doing and his choice is made with eyes open.'" People v. Koontz (2002) 27 Cal.4th 1041, 1070.
Privilege against compulsory self-incrimination.
Right to trial by jury.
Right to confront accusers (including the right to produce witnesses through the court's subpoena process). It is insufficient for the judge to simply explain to the accused that he or she has the "right to cross-examine." People v. Hayes (1990) 52 Cal.3d 577, 637.

In both misdemeanor and felony cases, the court must advise defendant that the conviction may have immigration consequences and may result in defendant being deported, excluded from admission to the United States or denied naturalization. Penal Code § 1016.5(a);
People v. Superior Court (Zamudio)
(2000) 23 Cal.4th 183;
People v. Arujo
(2016) 243 Cal.App.4th 759, 763.
In felony cases, the court must satisfy itself that there is a factual basis for the plea. Penal Code § 1192.5 requires this. Often this is done by asking defense counsel to stipulate to a factual basis for the plea or stipulate to the police report, complaint and/or the preliminary hearing transcript as factual basis for the plea.
In taking the plea, usually toward the end of it, the judge should state on the record that he or she finds the plea was entered into voluntarily, knowingly and intelligently. This is required under
In re Johnson
(1965) 62 Cal.2d 325;
People v. Garcia
(1979) 98 Cal.App.3d Supp.14.
Finally, the judge should advise defendant that as a direct consequence of the plea, there may be fines, restitution fines, penalty assessments, drug and laboratory fees if applicable, as well as mandatory revocation or suspension of driving privileges on a DUI conviction. If prison is imposed, the judge should advise defendant of the mandatory parole period defendant may have to serve after completing the prison term, as well as the potential maximum sentence in the case.
For more information about plea bargain issues, please click on the following articles:
Contact us.