Can Prop 47 Alter a Negotiated Plea Bargain?
Since voters in California adopted Proposition 47 on November 4, 2014, there have been many appellate decisions defining the new measure's limits and effect. This is due to a flood of convicted felons seeking re-sentencing of certain offenses to misdemeanors, some of whom have creative arguments and partly because the prosecutors assigned to such cases oppose such requests on equally novel grounds.
Not only has this influx of petitions, filed under Penal Code § 1170.18, angered judges, it has sparked outrage in certain prosecutors who negotiated felony plea bargains they considered unduly lenient, only to see the defendant return to court seeking an even better resolution as a misdemeanor. When this happens, the prosecutor is motivated to block what Prop 47 seems to represent: an unearned windfall to the defendant.
The Reader's Digest Version: Proposition 47 does apply to resentence a felony plea bargain to a misdemeanor because its wording explicitly contemplates its changes applying to a conviction, "whether by trial or plea."

The following case illustrates this situation and serves as a good learning point for anyone considering relief under Prop 47. The Riverside County District Attorney's office charged Karen Renee Brown with three counts of felony receiving stolen property (Penal Code § 496(a)), and three felony counts of identity theft (Penal Code § 530.5(a)). At her arraignment, Ms. Brown agreed to plead guilty to one felony count of receiving stolen property in exchange for dismissal of the remaining five counts, and two years in county jail. Ms. Brown also admitted to receiving stolen mail.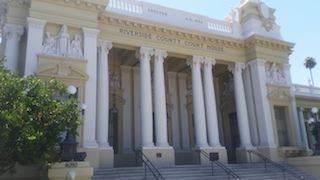 Old Riverside Courthouse
One month after being sentenced, Ms. Brown filed a petition for resentencing under Prop 47, requesting that she be resentenced to a misdemeanor. If this petition were granted, her county jail sentence would be cut in half to one year, eviscerating the plea bargain in the eyes of the prosecutor.
In response, the People argued that Ms. Brown was barred from resentencing under Prop 47 because Ms. Brown agreed specifically to two years in county jail as part of the plea bargain. Furthermore, as in any plea bargain, the terms incorporate and contemplate changes in the law, such as Prop 47. Therefore, the judge could not alter the agreed-upon punishment.
The trial court judge in Riverside, Helios (Joe) Hernandez, responded that Brown was not the one "breaking the deal;" it was the voters" (who passed Prop 47). Judge Hernandez then granted the petition and resentenced Brown to a misdemeanor with a sentence of 364 days in county jail.
The People then appealed to the Fourth Appellate District. The Fourth Appellate District court began its analysis by commenting that the People did not claim the value of the stolen mail exceeded $950 or that Ms. Brown was otherwise barred from relief under Prop 47.
The appellate court then noted that it was the first time a prosecutor had argued Prop 47 did not apply if a defendant was convicted by a plea bargain. The court thus considered the argument as a matter of statutory intent.
In looking at the statute to resolve if Prop 47 did not apply to someone convicted by a plea bargain, the court noted that Penal Code § 1170.18 "unambiguously applies to a defendant"… "currently serving a sentence for a conviction, whether by trial or plea…" (Penal Code § 1170.18(a)).
The appellate court, at 2016 DJDAR 1658, further noted that in
T.W. v. Superior Court
(2015) 236 Cal. App. 4th 646, a prosecutor argued that Prop 47 did not apply to a negotiated dispositions. The juvenile court agreed with the prosecutor and denied the minor's request for resentencing.
T.W. then appealed the ruling and won. The appellate court concluded Proposition 47 "clearly and unambiguously" applies to convictions obtained by guilty plea.
T.W.
,
supra
, 236 Cal.App. 4th at 652.
In Ms. Brown's case, the prosecutor argued that T.W. only addressed the text of § 1170.18 and thus; "the pre-existing, well-established law . . . that prohibits a court from altering the express terms of a plea argument" would still operate to bar Brown's petition for resentencing. The prosecutor attempted to then argue that the voters who adopted Prop 47 "are presumed to be aware of the existing law on plea agreements." Moreover, a negotiated plea bargain is a contract between a defendant and the prosecutor and, if accepted, its terms bind the parties and the trial court.
People v. Segura
(2008) 44 Cal. 4th 921, 930-931.
The appellate court, however, specifically disagreed with this law and affirmed the trial court's ruling. We think this is the right thing to do in following the statute's text.
The citation for the Fourth Appellate District Court of Appeals ruling discussed above is People v. Karen Renee Brown (4th App. Dist., 2016) 244 Cal.App.4th 1170.
For more information about Proposition 47, please click on the following articles:
Contact us.