What Are Mitigating Factors for Sentencing? Examples?
Your lawyer may have mentioned "mitigating factors," the judge may have asked for a brief on "mitigation" or the probation department may have written in its pre-plea probation report that "in mitigation, . . ."
What does it mean to be mitigating? It means that something is less severe or less serious or decreasing the gravity of what seems to have happened. To some, it means the criminal conduct alleged in this particular case is "overstated" or not as bad as one may presume.
Summary in 50 Words or Less: Mitigating factors include facts about how the crime was convicted that make the conduct seem less blameworthy, less violent or that defendant's involvement was minor, as well as personal factors about the defendant that show early acceptance of responsibility for the crime, drug or alcohol problems and the defendant's youth, if applicable.

California Rules of Court, Rule 4.423 lists out nine factors in mitigation that a judge can consider in sentencing. These factors concern how defendant committed the crime, as well as six factors relating to the defendant. Not all factors will apply, but 4.423 states that a judge can consider:
First, the judge will consider whether defendant "was a passive participant or played a minor role in the crime." In other words, if other defendants were involved, what was defendant's role within the crime taking place. Did he or she plan it out? Was defendant the youngest one involved? Did someone in a position of influence tell defendant what to do?
Second, the judge can consider whether "the victim was an initiator of, willing participant in, or aggressor or provoker of the incident." This factor often relates to violent crimes such as battery, assault with a deadly weapon and criminal threats, although it could also apply to certain sex crimes. Often, a victim is a gang member or the victim has a criminal history of her own or his own that may be relevant.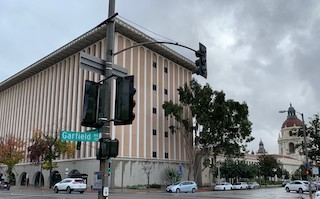 Pasadena Courthouse
Third, the judge may consider whether "the crime was committed because of an unusual circumstance, such as great provocation, that is unlikely to recur." The classic example of this is where a husband finds his wife having an affair and the husband beats up the other man. It could also take place if defendant catches a thief red-handed and commits a battery on the thief.
Fourth, the judge can consider whether the defendant participated in the crime under circumstances of coercion or duress, or the criminal conduct was partially excusable for some other reason not amounting to a defense. The context of this may be a gang related crime or a juvenile acting with adults, or a wife / girlfriend doing something illegal to assist her husband or boyfriend.

Fifth, the judge can consider whether the defendant, with no apparent predisposition to do so, was induced by others to participate in the crime. This would be applicable to a group of juveniles or young adults doing something together that is illegal and our client seemed to just "go with the flow," but unfortunately committed a crime.
Sixth, the judge can consider whether defendant exercised caution to avoid harm to persons or damage to property, or the amounts of money or property taken were deliberately small, or no harm was done or threatened against the victim. This may apply to a vandalism case wherein defendant hoped to anger another, but not in an overly destructive way.

Seventh, the judge can consider whether defendant believed that he or she had a claim or right to the property taken, or for other reasons mistakenly believed that the conduct was legal. This may apply to a theft case, such as embezzlement in particular. It could also apply to trespassing, wherein defendant did not know he or she was in an area owned by another person.
Eighth, the judge can consider whether defendant was motivated by a desire to provide necessities for his or her family or self, i.e. in a shoplifting or other theft case.
Lastly, the judge can consider whether defendant suffered from repeated or continuous physical, sexual, or psychological abuse inflicted by the victim of the crime, and the victim of the crime, who inflicted the abuse, was the defendant's spouse, intimate cohabitant, or parent of the defendant's child; and the abuse does not amount to a defense. This would seem to apply to domestic violence, most obviously, but also mayhem, battery, false imprisonment and even some sexual crimes.
A judge may also consider factors relating to defendant personally. These include whether:
(1) The defendant has no prior record, or has an insignificant record of criminal conduct, considering the recency and frequency of prior crimes;
(2) The defendant was suffering from a mental or physical condition that significantly reduced culpability for the crime;
(3) The defendant voluntarily acknowledged wrongdoing before arrest or at an early stage of the criminal process;
(4) The defendant is ineligible for probation and but for that ineligibility would have been granted probation;
(5) The defendant made restitution to the victim; and
(6) The defendant's prior performance on probation, mandatory supervision, post-release community supervision, or parole was satisfactory.

We think a rigorous analysis of each factor, in order, is appreciated by judges in any sentencing brief that is filed, so we try to evaluate each factor, even noting for the judge when it is not applicable.

For more information about sentencing, please click on the following articles:
Contact us.