What Are the Sentencing Options in a Misdemeanor Case?
If you or a loved one faces a misdemeanor case, one probably appreciates that a misdemeanor is far less serious than a felony, so punishment will be not as severe as in a felony.

However, what exactly are the possibilities in being sentenced on a misdemeanor conviction? Will one go to prison? Jail? If so, how long? What about community service? House arrest? What about a drug treatment program? How about taking classes or going to Alcoholics Anonymous (AA) meetings? What about a fine? Can I just pay a fine and be done with this? This article will address these common questions.
Brief Synopsis: Generally speaking, a judge can sentence someone convicted of a misdemeanor to jail and/or probation. Jail for one misdemeanor conviction can be up to one year or six months, depending upon the violation and fines can be up to $1,000, with certain exceptions. The terms of probation vary by the crime and the court. Resolution of a misdemeanor is not done by just paying a fine.

California Penal Code § 1203.1 guides a judge in how to sentence on a misdemeanor. It gives the judge three general options. They are to sentence a defendant to 1) probation (either informal probation, also called summary probation, or formal probation) with no jail time; 2) probation with up to six months or a year of county jail time; or 3) judgment suspended (no probation and no jail).
Most commonly, a judge imposes a sentence, but suspends execution of the sentence, and places defendant on probation, either informal or formal. For example, a judge will state that it is sentencing defendant to six months in county jail, but suspends imposition of the sentence so that defendant does not have to serve any of it until ordered. Such an order to serve the jail time is then something defendant can avoid by successfully fulfilling certain conditions or requirements of probation.
Such requirements or conditions of probation may include performing Cal-Trans, community service or community labor, going to a class (i.e. the batterers program in domestic violence cases, an alcohol awareness program (i.e. AB541, AB762, AB1353 or SB38 in a DUI), Alcoholic Anonymous (AA) or Narcotics Anonymous (NA) meetings, etc.), staying away from a particular business or residence or area, and paying certain court fines and/or a booking fee.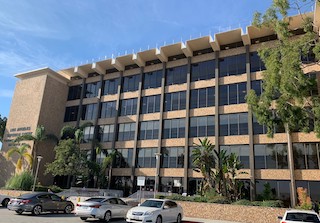 Torrance Courthouse
If defendant violates the terms of probation, probation is revoked in a two-part process. First, once the judge receives information and finds probable cause that a probation violation may have taken place, the judge will revoke probation in a summary manner, meaning immediately and su sponte (on its own). The judge will then set a formal revocation hearing. People v. Coleman (1975) 13 Cal.3d 867, 894. At such a hearing, if the probationer is not reinstated on probation, the judge "must" order the probationer to serve the entire suspended sentence. See People v. Colado (1995) 32 Cal.App.4th 260.

Second, a judge can place a defendant on probation, but also impose a jail term of up to six months on a probation violation (unless otherwise specified) and a fine of up to $1,000 (also unless otherwise stated). Penal Code §§ 19, 672. Generally speaking, misdemeanor punishment may not exceed one year in county jail except when the judge imposed consecutive misdemeanor sentences and the defendant waives the one-year limit of Penal Code § 19.2 (defendant may do this in lieu of pleading to a felony instead, for example); People v. Harris (1987) 195 Cal.App.3d 717, disapproved on other grounds in People v. Arnold (2004) 33 Cal.4th 294, 307.

It merits mention that the maximum punishment for violation of a city ordinance is six months in jail, a $1,000 fine, or both. Government Code § 36901.
Misdemeanor defendants serving time in custody may reduce that time through work and good behavior ("good time, work time credit"). For each 4-day period defendant is in custody, one day can be deducted from the period of confinement for work time and one day can be deducted for good behavior. Penal Code § 4019(b)-(c).
Lastly, a judge can suspend imposition of a sentence by placing defendant on probation without stating a sentence. When a judge does this, he or she leaves open the possibility of sentencing defendant up to the maximum sentence on a revocation of probation.

If defendant is not a citizen, it is best if the judge does not state a sentence. A sentence that is imposed (but suspended) counts as a sentence for immigration purposes even if its execution is stayed.
Contact us.