Custody Credit for Presentence Electronic Home Monitoring?
Summary in 50 Words or Less: A person ordered to house arrest by the judge as a condition of bail is entitled to pre-sentence credits toward his sentence. The ruling described below does not address post-sentence house arrest, as if often offered as an alternative to county jail, but good-time, work time credits should equally apply to house arrest to permit "early release" from house arrest.

Penal Code § 2900.5 requires a judge to award presentence custody credits for all "days served in home detention. . . . pursuant to section 1203.018."
Penal Code § 1203.18 authorizes the board of supervisors of any county to "offer a program under which inmates being held in lieu of bail in a county jail or other county correctional facility may participate in an electronic monitoring program."
These two provisions were put to the test in the case of John Paul Raygoza in Los Angeles County. In 2011, Mr. Raygoza was arrested for false imprisonment by violence (Penal Code § 236) and four other crimes. It was alleged that he used a firearm and that he had a prior conviction for battery that was characterized as a strike.
After four days in custody after being arrested, he was released after posting a $455,000 bond. However, two weeks later, he was brought back into custody. Two more weeks later, a representative of the bail bond company reported that Raygoza qualified for no more than a $350,000 bond. Raygoza then requested that the judge (Leslie Brown in Inglewood) reduce the bail to $350,000.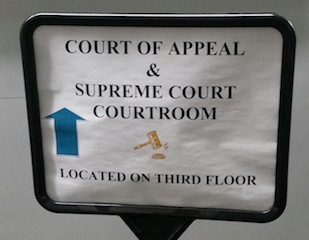 Court of Appeal Second Appellate District Los Angeles
As the reader of this article may know, bail may be decreased or increased under Penal Code § 1275 when there is a material change in circumstances. This generally means that the public safety considerations must or may change so as to make bail higher or lower.
The most common change that we see is when the alleged victim of a case changes his or her residence to a location far away or the client promises to attend certain classes if released on no bail (own recognizance) or lower bail.
In response to Raygoza's request that bail be lowered, the judge approved that, provided Raygoza agreed to electronically monitored home detention. Raygoza agreed to this.
Raygoza then posted a bond for $350,000 and was released, subject to electronic home monitoring and was confirmed to his house. In 2014, more than two years later, he entered a no contest plea to a change of false imprisonment and accepted a four year sentence.
After being sentenced, he sought presentence custody credit under Penal Code § 2900.5, which requires courts to award credit for all "days served in home detention pursuant to . . . section 1203.018." The trial court judge denied the request, finding that Penal Code § 1203.18 only applied, as the statute says, to inmates confined to home "in lieu of bail."
This strained reading of the statute, we think, was wrong and was most likely influenced by the practical consequences that Raygoza's four year sentence may have been deemed served due to the "good-time, work-time" credits Raygoza accumulated between April, 2011 and September, 2014. The realization that a defendant with a prior strike would avoid prison by "serving time" at home may have been unsettling to this judge, who opted for a strict reading of the statute.
The problem with this reading of the statute is that Raygoza was eligible for credits even if he posted no bail. Here, he even posted bail of $350,000, meaning he was "more committed" to behaving in accordance with the home detention rules.
Raygoza appealed the ruling to the Second Appellate District.
In opposition to the appeal, the People argued that Raygoza was in actual custody for only 19 days, thus falling short of the 60 calendar days required for a person facing felony charges who must be held in custody prior to seeking home detention.
The problem with this argument from the prosecution is that the judge suggested home detention. Raygoza did not seek home detention himself.
The Second Appellate District, in
People v. John Paul Raygoza
(2016 DJDAR 8525), agreed that the lower court made a mistake. The case was ordered remanded back to the Inglewood trial court to calculate the presentence custody credits to award Raygoza.
We see this ruling as significant toward allowing post-sentencing home detention credits, too, which is often unclear on many types of cases. Home detention is generally a great way for people to maintain employment to minimize the collateral effects of a conviction.

The citation for the Second Appellate District Court ruling discussed above is People v. John Paul Raygoza (2d App. Dist., 2016) 2 Cal.App.5th 593.

For more information about house arrest and private jail, please click on the following articles:
Contact us.