What Are California's Regulations for Implementing Prop 64?
As the reader of this article may understand, Proposition 64 obligates a potential grower or distributor of recreational marijuana to meet the standards set forth by the city or county in which that person or company does business, or if that city or county has no such standards, to meet the state standards once January 1, 2018 arrives.

This article is written for the recreational marijuana grower or distributor who does not have city standards to meet and instead must follow the default standards set by the state, promulgated in 276 pages of regulations on November 16, 2017. These regulations merged the medical and recreational marijuana laws under one set of regulations.
The Gist of This Article: Check with your local city hall about a license or permit to operate any form of marijuana sales, growing or distribution before doing so. If the city does not have any standards, check with the county for a license or permit. If the county does not have specific regulations, follow the state standards. Do not naively just start selling, growing or distributing marijuana simply because Prop 64 passed.
There are many ambitious regulations, but none is perhaps as ambitious as the strict testing and tracking of all cannabis products, including medical marijuana products, from seedling to sales.
However, if one currently is selling adult-use marijuana products, it may come as some relief that there is a six-month grace period for some rules. For example, through July 1, 2018, licensed businesses may still sell marijuana products in their inventory that have not been tested for THC concentration (otherwise, there will a label stating this) or put in child-resistant packaging. A properly licensed business may also, during this grace period, work with distributors and manufacturers who may not hold permits for such activities.
However, once July 1, 2018 arrives, the grace period ends and the new laws become the rules. After July 1, 2018, if one is a manufacturer of edible products, a serving size portion must have ten milligrams or less of THC and not more than 100 milligrams of THC for the entire package, which (as mentioned above) must be in child-proof packaging. There are pages upon pages of regulations concerning pricing and packaging that one must closely review.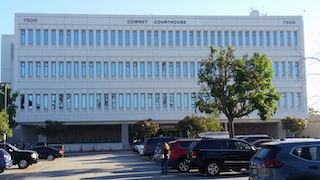 Downey Courthouse
If one is selling marijuana in any form, one may not have a store within 600 feet of any school. The store must also close by 10:00 p.m. and must have video surveillance twenty-four hours per day. The store can sell to anyone age 21 or older with a valid I.D.
One seeking to sell such products can apply for a temporary state permit online. The temporary permit is good for four months. During that time, the business owner will have to compile information that will be later submitted to the state for a permanent license. Such information includes a security plan, insurance bonds and business formation documents. The state will then review such information and conduct background checks of the individuals involved. A copy of the online temporary license application is on the Department of Food and Agriculture website.
The fee for an annual license range from as low as $800 per year (a transportation / distribution license) to up to $120,000 per year for a business doing multiple activities and making more than $4.5 million per year.
Such stores henceforth can only give out free products to medical marijuana users or their caregivers.

Stores can apply for a special license to host cannabis events like festivals at fairgrounds.
There are strict rules on advertising for stores, distributors and manufacturers. One of the rules specifies, for example, that cannabis ads may only be viewable in outlets where at least 71.6% of the audience "is reasonably expected to be 21 years of age or older."
If one is cultivating marijuana, there is no state limit on how many small marijuana farms a person can own, but with a few isolated exceptions that need to be reviewed if one is a farmer.
For more information about Prop 64 issues, please click on the following articles:
Contact us.