What Are My Rights to Marijuana Now That Prop 64 Has Passed?
On November 8, 2016, California voters passed into law Proposition 64, opening the door to a myriad of rights, some of which went into effect immediately.
On the individual level, the most well-known of these rights is that Prop 64 legalized marijuana use for adults age 21 and older within California. Included within this right is the legal ability to possess up to one ounce (28 grams) and eight grams of concentrated cannabis (hash and oil). It also allows each household to grow up to six plants.
Brief Synopsis: Prop 64 allows adults (age 21 and older) to possess up to one ounce (28 grams) of marijuana and up to 8 grams of concentrated cannabis (hash and oil). It also permits reduction of certain old convictions to misdemeanors and in certain cases, destruction of court records regarding marijuana convictions.

Perhaps, from our perspective as criminal defense attorneys, the biggest benefit of Prop 64 is that it retroactively authorizes resentencing of various marijuana-related offenses and destruction of prior records from prior marijuana convictions (buying, selling, growing, i.e.). It has been estimated, for example, that there were 465,873 arrests in California for marijuana offenses between 2006 and 2015. One would expect that two-thirds of such arrests led to convictions which now may be subject to a vacated plea and dismissal, or at least reduction of a felony to a misdemeanor.
For example, if one was convicted of violating California Health and Safety Code § 11359, the possession of marijuana for sale, Prop 64 changes this felony to a misdemeanor with a maximum sentence of six months, whereas when it was a felony, the defendant faced a sentence of up to three years in county jail. A person currently in county jail could request resentencing on such a charge and perhaps be released based on time served.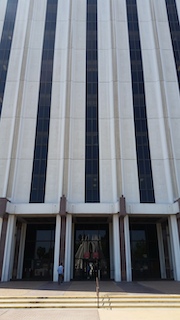 Compton Courthouse
Likewise, any conviction for misdemeanor possession of marijuana, provided it is by an adult and for less than 28 grams, would now be vacated and dismissed. One can now request destruction of the police report and court file related to such a conviction, if there is no other conviction arising from the same arrest.
Now, "on-site" consumption of marijuana is allowed at medical marijuana collectives (but not within sight of those under age 21 and not with consumption of tobacco or alcohol), something that is new, which one can anticipate will give new meaning to the term "smoke shop."
One can then smoke or consume the marijuana in private, not in public places. If one, for example, is caught smoking marijuana on a public beach, the person may face a $100 ticket and a conviction for an infraction.
Such rights raise immediate questions of how a household is defined and what size of a marijuana plant qualifies as a "plant." Such definitions surely will be given limits by our courts as people are prosecuted for violating what law enforcement believes is a reasonable interpretation of the law.
A person can also give marijuana to another person, provided less than the personal limit is not exceeded. However, if one were to open a new store to do this, in exchange for money, this is not yet allowed. Prop 64 designated state agencies to issue licenses to potential store owners.
Such a license to sell marijuana will be subject to as-yet-to-be-determined city and county regulations concerning the allowable tetrahydrocannabinol (THC) concentration for marijuana sold, an excise tax of 15% on retail sales, and standards for packaging, labeling, advertising and marketing, largely to prevent underage use of marijuana. Prop 64 does prohibit marketing and advertising directly to minors, although how this is determined is yet-to-be-determined. It also prohibits located a marijuana business within 600 feet of a school, day-care center or youth center, unless allowed by a local government. Lastly, a business selling marijuana cannot also sell alcohol or tobacco.
Delegating the determination of such regulations to the city and county level is bound to create a patchwork of laws, some which may impose different standards and create confusion.
There will also be a cultivation tax of $9.25 per ounce of marijuana flowers and $2.75 per ounce of leaves sold to retail store. Medical marijuana, as allowed under Prop 215 since 1996, may be exempt from some taxation, but the exact limits of this are not yet specified.
For more information about, please click on the following articles:
Contact us.