How Are the Cities in Palos Verdes Implementing Prop 64?
Recently, the four cities in Palos Verdes announced their individual regulations to implement Proposition 64, which passed over a year ago in November, 2016. As the reader may know, Prop 64 decriminalized possession and sale of marijuana in general for those 21 and over and permits users to grow up to six marijuana plants in their own home for personal use (for more details, please see Article 863 about California's default standards for Prop 64).
Summary in 50 Words or Less: The four cities on the Palos Verdes Peninsula have set varying permit requirements for growing, delivery and selling marijuana now that Prop 64 has been passed. Read the article below for specific standards for the city that interests you and then check with the city itself for more specifics.
On January 1, 2018, temporary state licenses will become available for all types of marijuana businesses, i.e. dispensaries, commercial growers and distribution companies. However, local cities are allowed to regulate the industry within their own borders, as the Peninsula cities seek to control. So just because such licenses become available, does not mean obtaining one is easy.
Rancho Palos Verdes, the Peninsula's largest and most populous city, requires residents to go through a rigorous application process to obtain a permit to grow within the city the amounts allowed by state law. One seeking to grow marijuana for recreational use must submit a property site plan and scaled diagram of the floor plan of the residence to be used for growing. The application must also address odor control, security, electrical safety provisions and identify all equipment that will be used. The city and the fire department then will inspect the location applying to grow marijuana before a permit is issued.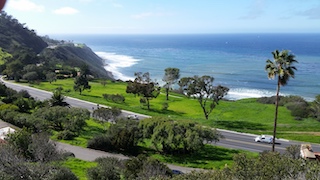 PVE Bluff Cove Indicator Area
The intent behind the strict rules is to prevent people from expanding their operations into a commercial operation out of their homes, with the problems that arise with that such as sales being made out of one's home or distributing it via a commercial distributor.
Palos Verdes Estates will prohibit growing marijuana outdoors. The concern is making such cultivation visible to someone outside, even by a drone, which might encourage theft. If one wishes to grow marijuana indoors and one lives in a rental property, condominium complex or apartment building, the owner, homeowners' association or apartment owner will need to approve of this. However, no permit is required for personal marijuana cultivation indoors.

However, Palos Verdes Estates has decided to permit commercial deliveries, but only of medical (not recreational) marijuana to users ages 21 and older. The fine for violating this distribution ordinance will be $2,500.

Rolling Hills Estates plans on banning dispensaries within the city and only allowing cultivation of six plants. However, right now, it is unclear if one will be allowed to grow such plants outdoors and the city is silent on allowing distributors to operate within its city limits (for recreational and medical marijuana).
Rolling Hills only allows distributors within its city limits for distribution of medical marijuana. Like Palos Verdes Estates, it only allows cultivation of marijuana plants indoors and specifies that no building or safety codes may be violated in growing such plants. The city does not plan on having an inspection requirement like Rancho Palos Verdes. Mobile dispensaries are not allowed within the city limits.
When a local city does not adopt a law addressing a specific issue, the resident is governed by state law on that issue.

As time passes and cities see how their regulations have worked (or not worked) according to resident complaints and police feedback, we should expect each city to adopt additional measures to promote public safety, prevent crime and preserve each city's reputation.
We therefore highly recommend that anyone seeking to grow marijuana (inside or outside), transport / distribute and/or sell marijuana check with the city of interest for updated regulations. This article was written in April 2018, before any city had feedback from residents on the regulations and if changes and addition regulations were appropriate.
For more information about Prop 64 issues, please click on the following articles:
Contact us.