Under Prop 64, Is Reduction of One's Sentence Automatic?
In April of 2012, Los Angeles Sheriff's executed a search warrant at the Whittier home of Alice Rascon. The search uncovered five bags of methamphetamines and eleven bags of marijuana, as well as numerous unused plastic baggies and three digital scales.
Deputies also found ammunition and two loaded handguns in a desk drawer. Ms. Rascon was a convicted felon, so her possession of the firearms and ammunition was itself a crime. Indeed, she had three prior narcotics convictions and had served multiple prior prison terms (Health and Safety Code §§ 11359, 11370.1(a), 11370.2(c) and 11378, Penal Code §§ 667.5(b), 12022(c) 29800(a)(1) and 30305(a)(1)).
Why This Article Matters: A reduction of one's conviction for a marijuana-related offense eligible for reclassification under Prop 64 from a felony to a misdemeanor, or a misdemeanor to an infraction, or outright dismissal is not automatic. A judge must rule on the request after considering if doing to would pose an unreasonable risk to public safety.

Ms. Rascon was charged in Norwalk Superior Court with possession of methamphetamine while armed, possession of methamphetamine and marijuana for sale, possession of ammunition, and possession of firearms by a felon. Her prison priors were alleged for sentencing enhancements.
The jury convicted Rascon on all counts. The judge, Raul Anthony Sahagun, kindly struck the prison prior term allegations and sentenced her to three years in prison for methamphetamine possession plus five consecutive years for the firearm enhancement. The court then imposed concurrent terms for the marijuana and armed methamphetamine possession convictions. The court further stayed execution of the sentence for the ammunition and felon with a firearm convictions. Ms. Rascon received 259 days of presentence custody credit.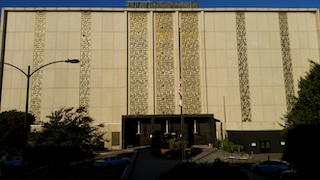 Norwalk Courthouse
Before her judgment was final, Proposition 64 was passed. She was then sentenced as described above.

She then appealed her convictions and sentence on many grounds. This article will only address her allegation that she was automatically entitled to have her felony possession for sale of marijuana reduced to a misdemeanor under Prop 64.

The Second Appellate District, in People v. Alice Rascon overruled Ms. Rascon's appeal on the Prop 64 issue. (People v. Alice Rascon (2017 DJDAR 3205).

The court noted that indeed, Ms. Rascon had been sentenced to three years in state prison, to run concurrent with her other sentence, for violating Health and Safety Code § 11359. After she was sentenced, the electorate passed the Control, Regulate and Tax Adult Use of Marijuana Act (Prop 64), which amended Health and Safety Code § 11359 to provide, generally, that every person over 18 convicted of possession of marijuana for sale "shall be punished by imprisonment in a county jail for a period of not more than six months or a fine of not more than $500, or by both fine and imprisonment." Health and Safety Code § 11359(b).

Prop 64 also added Health and Safety Code § 11361.8, which allows "a person currently serving a sentence for a conviction" of Health and Safety Code § 11359 (and other marijuana-related crimes) to petition the trial court to recall the person's sentence and resentence the person. If the person satisfies the eligibility requirements, "the court shall grant the petition… unless the court determines that granting the petition would pose an unreasonable risk of danger to public safety."

An "unreasonable risk of danger to public safety" is defined as "an unreasonable risk that the petitioner will commit a new violent felony within the meaning of Penal Code § 667(e)(2)(c)(iv).

Rascon alleged that Prop 64 applied in an automatic and retroactive manner in all sales of marijuana cases. Prop 64, however, restricts applicability to those who do not pose an unreasonable risk of danger to public safety. Proposition 64 also does not apply to anyone who must register as a sex offender or who has a "super strike" conviction or who has two or more convictions under Health and Safety Code § 11359(b) or § 11359(c)(1)-(2).

Consequently, her appeal was denied, but the Second Appellate court hinted that Rascon could apply to the trial court judge in Norwalk for resentencing. The judge would then consider whether lowering the conviction to a misdemeanor would cause an unreasonable risk to public safety.

The citation for the Second Appellate District Court ruling discussed above is People v. Alice Rascon (2d App. Dist., 2017) 10 Cal.App.5th 388, 216 Cal. Rptr. 3d 385.
For more information about sentencing issues, please click on the following articles:
Contact us.