Westminster, Two Bench Warrants for 14601.1, Diversion
Our client, age 27, received two tickets in two weeks, both for driving on a suspended license due to it simply expiring and not being renewed (Vehicle Code § 14601.1(a), a misdemeanor), as well as infractions for driving without insurance (Vehicle Code § 16028(a)) and expired registration (Vehicle Code § 4000(a)(1)).
His troubles began with just being too busy to renew his registration. He worked super long hours and could not make it to get his car smog checked and then send proof of this to the DMV. This caused his registration to lapse.
In a Nutshell: Client too busy with work and life to renew his registration, insurance or driver's license, allowing all to expire. He eventually picked up multiple tickets for these and missed court, causing judges to issue bench warrants for him. The situation reaching a critical point when his employer noticed this in a routine background check of all employees. Our office was able to have warrants recalled and tickets dismissed after client attended class through court.

He then failed to renew his license and his insurance, although he certainly could afford to renew each. Before long, he was stopped repeatedly for driving with expired tags. At first, he paid off the tickets, but then kept getting tickets. In total, he received five such tickets.
On the last two tickets, he did not appear in court and the judge in each issued bench warrants.
Eventually, about eighteen months later, his employer did a routine background check on all employees and found that our client had two outstanding bench warrants.
The client called our office and explained his predicament. He was not certain which court or courts had issued the bench warrants because he had received so many tickets and he was unable to remember each one separately. He stated he was not driving his car anymore and in fact, came to our office with his girlfriend kindly driving for him.
Greg therefore spoke with a bail bondsman who was able to access court records from several counties and provide that information to Greg.
Greg then explained to the client that because more than a year had passed, the client's Sixth Amendment right (made applicable to the states via the Tenth Amendment) to a speedy trial was violated and there was a rebuttable presumption of prejudice to him.
Serna v. Superior Court
(1985) 40 Cal.3d 239, 219 Cal.Rptr. 420; 707 P.2d 793. However, if the client signed a promise to appear in court when issued the ticket, judges will often hesitate to grant such a motion to dismiss based on the Sixth Amendment.
Courtyard of Westminster Courthouse


Greg then appeared in the Westminster Superior Court to recall both bench warrants, first to allay the client's anxiety about being terminated at work and to simply give him peace of mind that he would not be taken into custody if stopped while driving again.
The assigned district attorney was quite sympathetic to our client's situation, explaining that he understood our client was already facing thousands of dollars in likely court fines from the first tickets that he simply pled "guilty" to earlier. He likened our client to a "hamster on a treadmill" paying off each ticket slowly, but surely and yet never really getting ahead as he periodically received yet another ticket.
Greg asked if the client qualified for any type of DA diversion that the prosecutor would agree to offer. The DA said yes, explaining that he would simply dismiss the second ticket Greg was appearing on and allow our client to "earn a dismissal" on the first case by attending a six-hour class on how to avoid driving on a suspended license and providing a DNA sample to the DA's office. The class and DNA sample cost $260.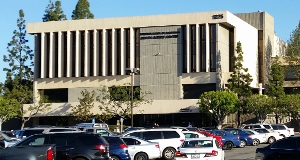 Westminster Courthouse
He then suggested that Greg ask the judge to waive the civil assessments on the old tickets, including those already in collections.
Greg did so and surprisingly, the judge agreed to do this, again likening our client to being on a treadmill of paying tickets and never getting out of the situation for many years. This kind gesture by the judge, although reluctantly obliged, saved our client over $2,000 and thus allowed him to again afford insurance, afford his registration and renew his license.
The client was very happy he had retained Greg Hill & Associates to help him dig out of his two bench warrants and multiple traffic tickets.