Westminster, 0.27% BAC, Daytime Arrest, Case Dismissed
Our client, age 33, was arrested as she exited a Los Alamitos Wendy's restaurant drive-through at about 1:30 on a Saturday afternoon. She had spent the prior night drinking heavily and then the morning doing likewise at a local bar once it opened. She then left the bar with her husband and bought a 12-pack at a local supermarket before proceeding to the Wendy's at issue. The Wendy's was in the same shopping center as the supermarket.

When officers pulled her over, she was allegedly swerving within her lane, although the 911 call was by a supermarket employee who thought our client was too drunk to drive. The supermarket employee believed our client was intoxicated by how she acted in the supermarket, so he followed our client to her car and took down her license plate number and called police.
In other words, the traffic stop was not based upon an 911 caller's observations of driving at all.
Why This Summary Matters: Sometimes, being assertive early can help sway an already skeptical prosecutor into not filing a case, as this case summary demonstrates. We therefore try to be aggressive early in the weak cases, rather than silent and trusting that the DA will do the right thing.
At the scene and after submitting to several field sobriety tests, our client gave a breath sample into a portable alcohol screening device, which measured her blood alcohol level at 0.27%. According to her husband, who was riding in the car with our client and observed the field sobriety tests, officers were verbally abusive and intimidating to his wife.
Our client was charged in Orange County Superior Court with one count of driving under the influence of alcohol (Vehicle Code Section 23152(a)), a misdemeanor and one count of driving while having a 0.08% or higher blood alcohol level (Vehicle Code Section 23152(b)), also a misdemeanor.
Greg Hill of Greg Hill & Associates immediately wrote the Westminster District Attorney and demanded a copy of the police report, as well as any supplemental reports, videos, audio recordings, photographs and criminal histories of any witnesses the prosecution intended to call as part of their case in chief. When the District Attorney seemed to sleep on the letter, Greg Hill called and wrote the District Attorney to follow up. The District Attorney seemed to be hiding something, as he did not want to discuss the case at all when pressed.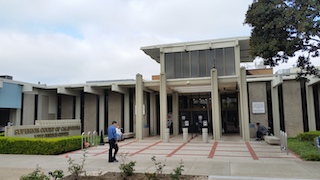 Westminster Courthouse
In Greg's second letter, he outlined the facts behind the traffic stop: our client was stopped based on weaving within one's lane in a fast food restaurant drive thru! Greg explained that under
United States v. Colin
(2002) 164 Cal. App.4th 741, at page 744, weaving within one's lane is not a valid basis for making a traffic stop.
He also explained how the 911 call was an invalid basis for the officer making a traffic stop because under People v. Wells (2006) 38 Cal. 4th 1078, the caller must witness a violation of the law. Here, the 911 caller only witnessed our client buying beer at a supermarket, which is not a violation of the law at all.
When Greg Hill appeared for the arraignment, he was advised that the District Attorney had decided not to file the case.
While we do not know to this day why exactly the District Attorney decided against filing, our client's husband believes it was police misconduct that swayed the D.A. Our office's aggressive efforts to obtain exculpatory materials must have spooked the D.A. into deciding to let this case pass.
For more information about traffic stops based on cell phone calls to 911, click on the following articles:
U.S. Supreme Court Lowers Standards for Allowing a DUI Traffic Stop Based on an Anonymous Call to 911
Watch our video about DUI by clicking here.
Contact us.