West Covina, PC 415 Misdemeanor to Infraction, 1203.4
In 2015, when our client was 38 years old, he got into a shoving match with another man at a bar in Glendora over an argument that became physical. Alcohol was no doubt a factor in the poor judgment each had in allowing such an argument to turn physical. No one was injured and no one was pushed to the floor.
However, the bar owner called the police and several officers from the Glendora Police Department came, arresting both our client and his shoving match partner.

Our client and his "enemy" were booked on charges of battery, Penal Code § 242, although both insisted that they did not want to press charges against the other. Our client was held until he sobered up and then he was released after signing a promise to appear for his arraignment in the West Covina Courthouse a few months later.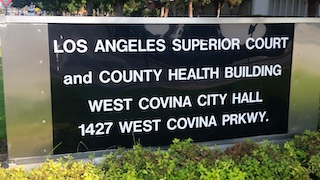 West Covina Courthouse
At the arraignment, our client opted to use the public defender to represent him to help resolve his case, in which he was charged with a misdemeanor for violating Penal Code § 242, battery. Our client had no prior criminal history and had a steady job with an online gaming company.
The public defender quickly negotiated a plea in which the client agreed to plea "no contest" to a charge of disturbing the peace as a violation of Penal Code § 415, but as a misdemeanor. Our client was placed on three years of informal (or summary) probation with an obligation to perform 20 days of community labor and pay a court fine of $150, plus penalties and assessments.

The client then performed the 20 days of community labor and paid the court fees and fines. Probation expired naturally with the passage of three years in 2018.
In 2021, our client was married with a child on the way. He was also eligible for a promotion at the same online gaming company and concerned that his conviction for misdemeanor disturbing the peace would negatively affect his promotion potential.
He called up Greg Hill & Associates to discuss having the conviction expunged to help with his promotion. He spoke with Greg Hill and described how the conviction arose, as well as his family and work status.
Greg confirmed that the conviction was eligible for "expungement" under Penal Code § 1203.4 and explained, just to make sure the client was clear, that expungement did not erase, delete or remove the conviction from the client's criminal history (like sealing under Penal Code §§ 851.91 and 851.92 did). The resolution of the case, however, would be modified from "convicted" with a "no contest" plea to "not guilty" and "case dismissed."

Moreover, with relief under Penal Code § 1203.4, the client was entitled to respond legally that he had not been convicted of the charge that he truly, actually was convicted of previously, except if applying for public office, applying to operate a state lottery or applying for a governmental professional license (i.e. realtor, doctor, lawyer, CPA, etc.).
The client then retained Greg Hill & Associates and Greg's office got to work on the petition for dismissal under Penal Code § 1203.4. Besides just submitting the $120 court fee and completing the FL-180 form, our office added a supplemental memorandum with a declaration from the client explaining his reason(s) for seeking relief under 1203.4. In most cases, such a declaration includes a description of an impending employment opportunity or news that he or she may be terminated due to the conviction. In many cases, the declaration also includes photographs of the client and his or her family, who are financially interested in having the conviction "expunged" to improve the defendant's earning capacity or opportunities.
In this case, our office received photographs of the client with his young family and a declaration from the client explaining his upcoming promotion opportunity.
Our office then filed the petition and paid the filing. A hearing date was then set and Greg appeared in the West Covina Courthouse for the hearing on the client's behalf.
At the hearing, Greg realized that the conviction for violating Penal Code § 415 was eligible for reduction to an infraction under Penal Code § 17(d)(2), so he orally made this motion to the judge conducting the hearing.
The judge granted the expungement and reduced the charge to an infraction, suggesting the criminal conduct was far less serious than a misdemeanor. The client was happy that Greg not only did what he explained he would do, but more, as Greg did not charge for or even discuss with the client a reduction of the charge to an infraction, but he made the request anyways and it was granted.
For more information about expungement and reduction of a misdemeanor to an infraction, please click on the following articles: