West Covina, Hit & Run, Civil Compromise Motion, Dismissal
Our client, age 55, had just gotten off work as a registered nurse (an RN) and was heading home to Walnut. She was passing through the West Covina area on the I-10 eastbound when she felt a bump to her car. As there was construction in the area, she figured she may have accidentally run over a small piece of wood, like a 2 x 4.
Summary: Client accidentally sideswipes another car while driving home after a long day as an RN. Client does not realize she hit another car. Case resolved in West Covina courthouse for a dismissal on a Motion for Civil Compromise, preserving our client's RN license.

She continued onward, noticing that a man in another car drove right up alongside of her, slowed down to her same speed and made some type of hand gestures at her. She became concerned that the man was going to force her off the road, so she called 911 on her cell phone. She also called her husband to report the odd man, who then tailgated our client and flashed his headlights several times.
Our client did not think the bump in the road was related to the man's behavior. She kept driving, so distracted by the man that she drove right past her normal off-ramp and kept going for several miles, eventually becoming lost and very flustered. The man in the other car kept following our client, which made our client quite nervous.
Our client's husband suggested she find an exit and drive to a well-lit parking lot where there might be people. Our client thus got off the freeway and drove to a Day's Inn in Ontario, where she went into the parking lot and parked near the hotel entrance.
The man followed our client and blocked the exit to from the parking lot. He then called the police and the CHP arrived. The man explained that our client had rear-ended him and kept driving.
Our client looked at the front of her car and saw damage, but stated she did not remember any impact with another car.
Our client was then taken into custody and released after several hours. She was arrested for misdemeanor hit and run (failure to stop at the scene of an accident), Vehicle Code § 20002.
She called Greg Hill & Associates the following day, quite worried how this might affect her license as an RN. The client had one other conviction for evading a police officer from another state. Greg explained that it could cause a suspension of the license pending her explanation of the circumstances, but that in such a case, a motion for civil compromise is often a good way to have the case dismissed.
Greg explained how Penal Code §§ 1377 and 1378 allow a court to find that a criminal case has a potential parallel civil resolution and if the "victim" in both cases is made whole by payment for the damage or expenses, and is not interested in criminal prosecution, the judge in the criminal case may dismiss the case.
Greg's office then got in contact with the driver of the other car and ensured that our client's insurance promptly paid for his property damage. Greg's assistant Kellie Stame then provided the other driver with a declaration to sign that he had been paid in full for the repair to his car and that he was not interested in prosecution of our client.
Greg then packaged together the declaration with a motion for civil compromise. In the motion, Greg also showed our client's cell phone records that showed our client had attempted to call 911 after the other driver started following her. Greg explained how a 55-year woman would not want to pull over at 2:30 a.m. to talk to a strange man.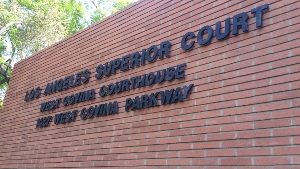 West Covina Superior Courthouse
The judge in West Covina granted the motion, dismissing the case. Our client was very happy with this outcome, as her RN license was not jeopardized.
For more information about hit and run issues, please click on the following articles:
Contact us.