Van Nuys, Solicitation of Prostitution, Judicial Diversion
About This Case Summary Briefly: Client arresting in a sting operation along Sepulveda Boulevard in Van Nuys after speaking to a police decoy, agreeing upon $80 for "everything," and pulling his car forward to a spot to wait for the woman. Case dismissed after client completes terms of diversion.

Our client, age 34, was returning from his girlfriend's apartment in the Van Nuys area to his home in Lomita. It was about 8:00 p.m. and a weeknight.
Our client was driving southbound on Sepulveda Boulevard, near the intersection of Sepulveda and Sherman Way when he saw a woman standing on the sidewalk. She was wearing a purple wig, a green jacket, leopard colored sweatshirt, black skirt and black boots.

She was a police officer working in the Los Angeles Police Department Human Trafficking Task Force, one of seven officers working that corner area of Sepulveda and Sherman Way. The female officer, dressed to be a decoy prostitute to catch the attention of Johns passing by the area, a well-known area for loitering for prostitution, solicitation of prostitution and drug use, was just starting her evening shift.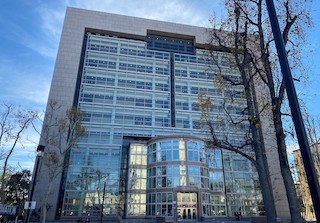 Van Nuys Courthouse
Our client spotted this woman and believed she was a prostitute. He slowed down his car and pulled over to the side of the street to talk to the woman. Our client came to a stop and lowered the passenger-side window of his front seat area. The decoy walked over to his car and complimented our client, saying, "What's a fine man like you doing in this area?"
Our client responded, "I'm just looking for someone like you."
The woman then responded, "Well, I'm working right now. Do you want to give me some work?"
Our client answered, "Of course. How about $80 for everything? You're not police, are you?"

The decoy answered, "Hell no, I'm not a cop! Are you?"
Our client answered, "No, no. How about $80 for everything?"
The decoy responded, "That sounds good. Meet me around the corner. I need to get my stuff."
Our client then drove forward, turning right onto Vose Avenue. Once our client made the turn onto Vose, he searched for the decoy, but all he saw was flashing blue and pink lights in his rear view mirrors.

The client pulled over and the police walked up to the driver's window of his car. Our client knew that he was being stopped for solicitation of prostitution. The police asked the client to exit his vehicle and patted down our client for any weapons (for officer safety purportedly). In our client's front pants pocket, officers found $286 in cash. No drugs or anything else was found of interest.
Our client was then told why he was being stopped and asked to sign a promise to appear in the Van Nuys Superior Court in lieu of being taken into the police station. Our client signed the notice to appear and police then took a photograph of him standing behind his car, all on Vose Avenue. The whole process took perhaps five minutes and our client then drove home, shocked at what just happened.
A few days later, he called Greg Hill & Associates and explained what had happened. The client had no prior criminal history at all and was worried about losing his job over this citation and the conviction he expected would follow.
Greg then explained how such cases are generally handled at the Van Nuys courthouse and how George Gascon's new special directives (instructing Los Angeles County District Attorneys not to prosecute solicitation of prostitution), issued on December 7, 2020, would not affect this case because the Los Angeles City Attorney's Office, not the District Attorney's office, would be assigned to handle and then prosecute the case.

The client then hired Greg Hill & Associates and Greg appeared in the Van Nuys Superior court for the client for the arraignment. The Los Angeles City Attorney there offered Greg, on behalf of the client, to dismiss the case if the client first entered a no contest plea, then did the Prostitution Diversion Program (costing about $700) and then returned to court with proof of the program completion and then the City Attorney would allow our client to withdraw his plea and then the City Attorney would dismiss the case a year later.
In the past, this was an attractive offer, one we often accepted.
However, with the arrival of 2021, there was a new judicial diversion program available under Penal Code §§ 1001.95 to 1001.97, which was even better because the client did not have to first enter a no contest plea. Greg then asked the judge for judicial diversion on the case and the judge granted the request, ordering our client to enroll in and complete an HIV / AIDS education and testing program (which cost $40) and that if our client did this, the judge would then dismiss the case after four months.
The client was pleased with this outcome and, within a week of the arraignment, completed the HIV / AIDS education and testing program. He now must wait a bit under four months for dismissal, not a year.
For more information about prostitution, please click on the following articles: